Program Details
Code: THAL0444M
Volunteer with Children in Thailand and Fiji
Explore two stunning coastal regions famed for their idyllic natural scenery, while contributing to critical childcare projects in Thailand and Fiji!
Our Impact
Location
Volunteer in Dawasamu
Our programs here are based in two stunning locations. One is based on the idyllic Caqalai Island pronounced '
than-

ga

-

lai

'
in the Lomaiviti Island group.
Caqalai
is a tiny island (you can walk around it in 15 minutes) defined by white sand beaches and a lush interior. The island is on the edge of an expansive reef system and nearby to 10 small villages located on the
neighbouring
Moturiki Island. The second is in the Dawasamu District on Viti Levu, remote and known for its proximity to Moon Reef and its resident pod of Spinner Dolphins. Based in the villages of Silana and Natalei, this is a perfect location to experience true Fijian life, in an amazing region defined by dense jungle, volcanic mountainsides and the tribal culture of Tailevu Province.
Program Information
Discover two amazing regions of the world when you volunteer on childcare projects in Thailand and Fiji. Experience the idyllic natural scenery and pristine beaches famed in both locations as you help improve disadvantaged children's futures by teaching English in local schools and assisting over-worked teachers.
Overview
Explore two stunning countries to their fullest! Explore the amazing natural beauty that both countries have to offer, immersing yourself in the intricacies of the various cultures and all while contributing to long-term childcare projects.
On this multi country project you will volunteer primary with children in local schools, providing much needed assistance to the teachers, helping the children with their English language ability and taking part in a range of other educational activities and games with the students.
In Thailand, you will be working in the idyllic province of Phang Nga. Surrounded by white sand beaches and a tropical jungle, you will spend your days contributing to the local community by assisting teachers in local schools and helping the children develop their English language skills.
In Fiji, you will have the chance to experience island life while surrounded by some of world's most beautiful natural scenery! Your time here will be spent volunteering in an understaffed local school where you will help children develop their language skills and give them the individual attention they need to thrive.
Both our childcare projects in these regions aim to improve the resources at the local schools in order to give the children a chance at a better education and thus improving their future prospects.
Please note travel between Thailand and Fiji is not included, but please speak to your Country Expert who will be able to advise you on your options and costs involved.
Highlights
Explore two amazing countries; immerse yourself in the culture and traditions of the local communities;
tantalise
your taste buds with exotic cuisine; enjoy the
breath-taking
tropical scenery; relax on pristine beaches; hike up to hidden waterfalls; island hopping; taking part in one of the many optional side trips; teaching children and seeing them progress, making a long-term impact on their futures and making a lasting contribution to the community
Program Details
Project Life
Thailand
From Monday to Friday, you will spend the majority of your time teaching English classes and assisting local teachers, playing games and leading educational activities designed to improve the children's conversational English. Although rewarding, days can long and tiring as you keep up with the children's energy and enthusiasm.
Accommodation
on
base
is small but comfortable with shared facilities and enough space for people to relax together or in private. There will be access to cold running water, electricity and an internet connection. While on project you will also receive simple yet delicious Thai meals cooked locally.
On weekends, you are free to explore the nearby area, relax on the pristine beaches or venture further out. Explore Khao Sok National Park; Phuket Island; kayak around Cheow Larn; visit the amazing limestone rock formations or take part in the other numerous side trips that the region offers!
Accommodation Upgrades
If you would prefer to stay in private accommodation while on this project, this location does offer upgrades. Contact us for more information, or mention to your Country Expert who will be able to assist you.
Fiji
Your day will start with a morning assembly, followed by a teachers' meeting where you will discuss the plan for the day with the faculty staff. For the remainder of the school day you will be focused on teaching,
organising
and running activities and providing assistance to other teachers.
Accommodation will be basic dormitory style with a communal kitchen, work area and living space. After a long day of hard work, the team will gather back at the base to eat, share stories and prepare for the next day's activities.
On weekends you will be spoilt for choice in this beautiful exotic location. Snorkelling, scuba diving, hiking and island hopping are just some of your options to explore!
Project Details
Our project aims vary between countries, but are all focused around building a better future for these children, while highlighting the importance in preserving and appreciating their fascinating cultures.
In the Phang Nga community where you will be teaching your presence will be invaluable. Thai classrooms are often overcrowded and teachers need additional assistance to ease their workload, give the children some extra attention and more exposure to spoken English. While volunteering here, you may find yourself teaching with fellow volunteers, assisting local teachers, teaching your own classes and
practising
English with the wider community.
Our goal in Fiji is to help the local children develop the necessary skills to improve their future opportunities. Through our local partners, community and the local council, we have been specifically requested to provide assistance with English language teaching, mathematics, sports education and arts. Local teachers are often under-resourced and there is an immediate need to provide them with assistance and additional English language resources.
*During school holidays and national holidays and festivals volunteers may take part in other activities such as joining in village/local festivities and activities, running holiday camps for students, educational workshops in the community, or English class for adults. There may be opportunity to assist with work related to other project focuses.
Phang Nga and Dawasamu's short, mid, and long-term objectives:
All of our programs have short, mid and long-term objectives that fit with the United Nations Sustainable Development Goals. This enables us to report on our collaborative impact across the world in a streamlined manner, measuring which UN SDGs we are making a substantial contribution to. Furthermore, this will help our local partners and communities measure and visualize their contribution to the UN SDGs.
Upon arrival to base, you will be educated about the history of the UN SDGs. You will learn about the specific goals of your location, the long-, mid- and short-term objectives, and also clarification of how your personal, shorter-term involvement contributes to these goals on a global level.
Our aim is to educate you on local and global issues, so that you continue to act as active global citizens after your program, helping to fulfill our mission of building a global network of people united by their passion to make a difference.
Learn about the long-term objectives you will be contributing to:
In Phang Nga:
1. To promote and encourage good health and well-being, inclusive of all people in our communities
2. To provide equal educational access and opportunities to adults and children of all backgrounds
3. To provide quality volunteer opportunities and experiences for growth and development
4. To create a positive, fun, supportive and communicative workplace for staff with opportunities for personal and professional growth
In Dawasamu:
1.Improving waste management in Dawasamu by developing community-based waste management solutions
2. Introducing and promoting the principles of WaSH in the Dawasamu District including First Aid
3. Create alternative livelihood projects which can help women generate income within the village
4. Improving English literacy levels and implementing holistic educational techniques into the learning environment
How this project makes a difference
In Thailand, GVI works directly with local schools to provide hardworking English teachers for the Thai children. As a result of an increase in tourism to the area, English teachers are in great demand. Most well-paying jobs are in the tourism industry and require conversational English skills. By providing these kids with an English education, we are able to give them the opportunity to improve their futures and break the cycle of poverty.
In Fiji, locally trained teachers are in need of assistance to provide the necessary levels of education to enable local children to have access to greater future educational and career opportunities. Our teaching and childcare projects help to provide additional resources to the teachers and children in need. Having a basic understanding of English helps to provide a link between different ethnic communities in the region, as well as increasing the chances of employment.
Your Impact
All of our programs have short, mid and long-term objectives that fit with the United Nations Sustainable Development Goals or UN SDGs. This enables us to report on our collaborative impact across the world in a streamlined manner, measuring which UN SDGs we are making a substantial contribution to. Furthermore, this will help our local partners and communities measure and visualise their contribution to the UN SDGs.
Upon arrival to base, you will be educated about the history of the UN SDGs. You will learn about the specific goals of your location, the long-, mid- and short-term objectives, and also clarification of how your personal, shorter-term involvement contributes to these goals on a global level.
Our aim is to educate you on local and global issues, so that you continue to act as active global citizens after your program, helping to fulfil our mission of building a global network of people united by their passion to make a difference.
What's It like?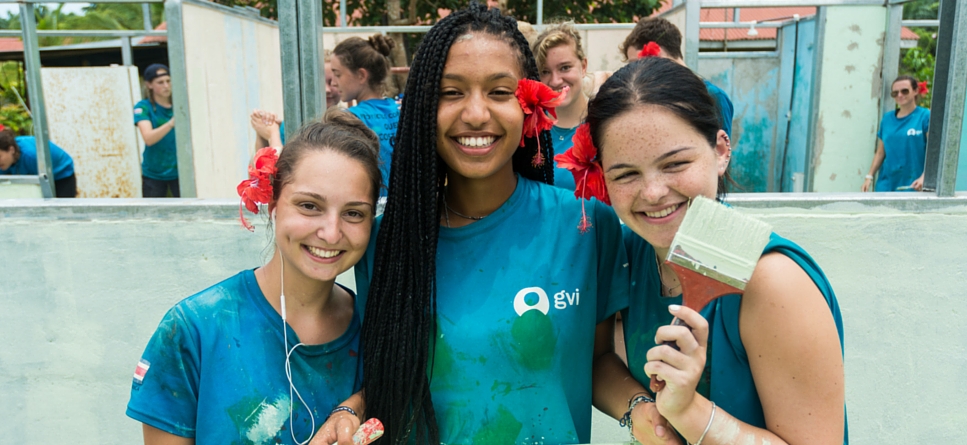 If you'd like to find out what the experience of joining a GVI project is really like, simply contact us and we'll put you in touch with one of our many Alumni.
We'll try to match you to an Alum based on your location, nationality, age, stage of academic career, gender, and program interests. This allows you to gain insights into the experience that is most relevant to you.
Depending on your location you might be able to speak to an Alum over the phone or online, or meet up with them face-to-face at a coffee shop nearby. We also run a series of small events around the world where you can speak to GVI Alumni, Ambassadors and staff members.
Our Ethics
Below is a list of core ethics and best practices we believe are essential to the operation of high quality, ethical volunteer and sustainable development programs. We believe that all responsible volunteer and sustainable development operations should focus upon these principles. If you are considering volunteering, these are some of the key considerations you should question, to ensure that your time and money contributes towards positive change.
Our 10 Ethical Commitments
Locally Driven, Collaborative Projects
We aim to design all our projects in collaboration with local organizations and communities and ensure that they are locally driven.
Clear Objectives & Sustainable Outcomes
We aim to clearly define short-, mid-, and long-term objectives with sustainable outcomes for all our projects.
Impact Reporting
We aim to track, record, and publish the impact of each of our projects.
Working Against Dependency
We aim to build in-country capacity by assisting local organizations in becoming self-sustaining.
Responsible Exit Strategies
For each local organization we work with, we aim to have a plan in place for withdrawing support responsibly.
Clear Roles & Specialized Training
We aim to ensure that ever participant is assigned a clear role and that they are fully trained and supported to carry out their work by specialized staff.
Respect for all
In all our actions we aim to respect the skills and efforts of all and seek to protect the rights, culture and dignity of everyone who engages with GVI.
Local Ownership
We work to ensure that credit for the results of any project, along with any data collected, research conduct, or Intellectual Property developed, remains the property of local organizations.
Transitioning from the Orphanage Model
We do not condone and aim to withdraw support of orphanages and residential care centers.
Child and Vulnerable adult policies
We will live by our Child Protection and Vulnerable Adult policies.
Continual Development
As an organization, GVI is committed to striving toward best practice, and to educating both our potential participants, our partners, and the world at large about them. Both the volunteering and sustainable development sectors are increasingly, and rightly, under scrutiny. Many recent local and global articles highlight poor practices and questionable ethics GVI is widely recognized for striving to apply global best practice in the volunteering, education and sustainable development sectors throughout our operations by reputable organizations such as ChildSafe.
However, global best practice is always evolving and we dedicate both time and resources to engage with internationally respected experts and learn from the latest research to ensure our programs both fulfil their potential to create maximum positive impact, and minimise their potential to create unintentional negative impact. Along with and as part of the sustainable development and volunteering community, we are constantly learning and applying this learning to practice. We do not always get everything right, but we seek feedback from our community members, partners, participants and our staff, and react accordingly. We know are already doing a great job, and feedback we have received confirms this, but we aim to do even better and are continuously refining our operations to improve upon our already excellent reputation.
What's Included
24-hour emergency phone

24-hour in-country support

Access to Alumni Services and Discounts

Airport pick-up (unless otherwise stated)

All necessary project equipment and materials

All necessary project training by experienced staff

Complete immersion in the local culture

Learning how to cook a number of tasty Thai dishes, including some regional favourites

Learning the basics of the Thai language

Location orientation

Long term experienced staff

Meals while on project (except on work placements for long term internships)

Safe and basic accommodations (usually shared)

Travel advice

Welcome meeting
What's Not Included
Additional drinks and gratuities

Extra local excursions

Flights

International and domestic airport taxes

Medical and travel insurance

Personal items and toiletries

Police or background check

Visa costs (where necessary)
Support & Safety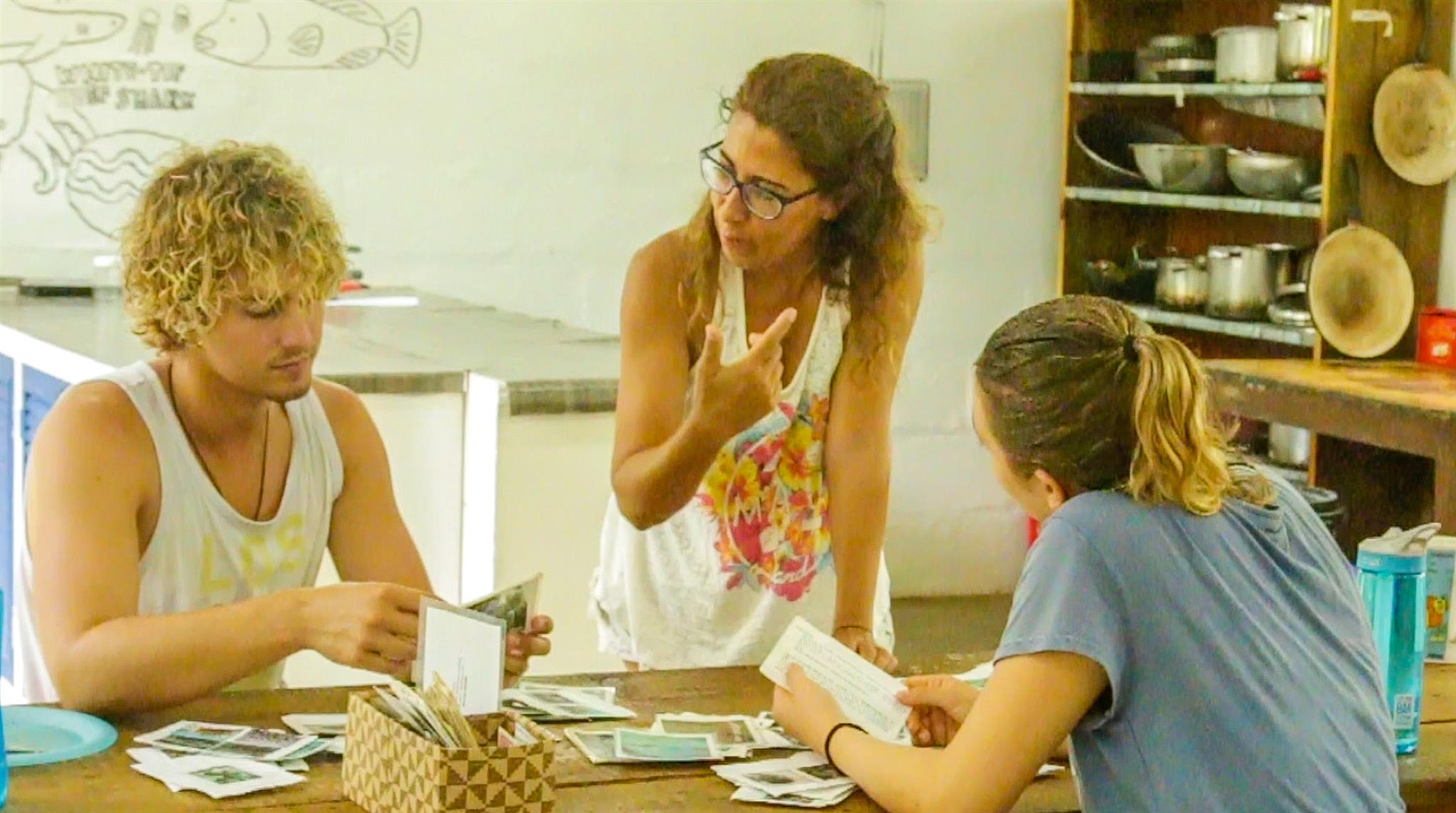 We won't sugarcoat it — Traveling abroad is usually a complex process that carries an element of risk. But this is exactly why we're passionate about providing extensive support throughout the process as well as the highest safety standards during the in-country phase. We believe that volunteering abroad should not only be impactful, but an enjoyable experience that carries as little risk as possible. This is exactly how we've been able to maintain our reputation as the most highly respected volunteering organisations in the sector over the past two decades.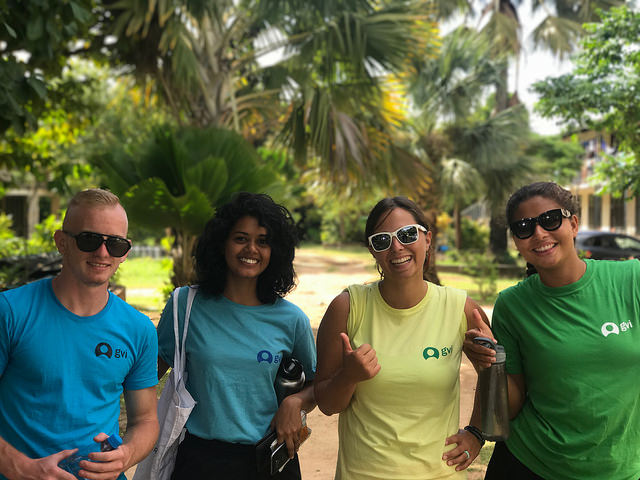 Support
Once a participant books, they will be assigned a personal support coordinator who will oversee their pre-departure journey. The support coordinator helps to bridge the gap between program enrolment and arrival at one of our field bases. Your personal support coordinator will ensure that you are provided with all the necessary information required to apply for visas, background checks, and any other documentation.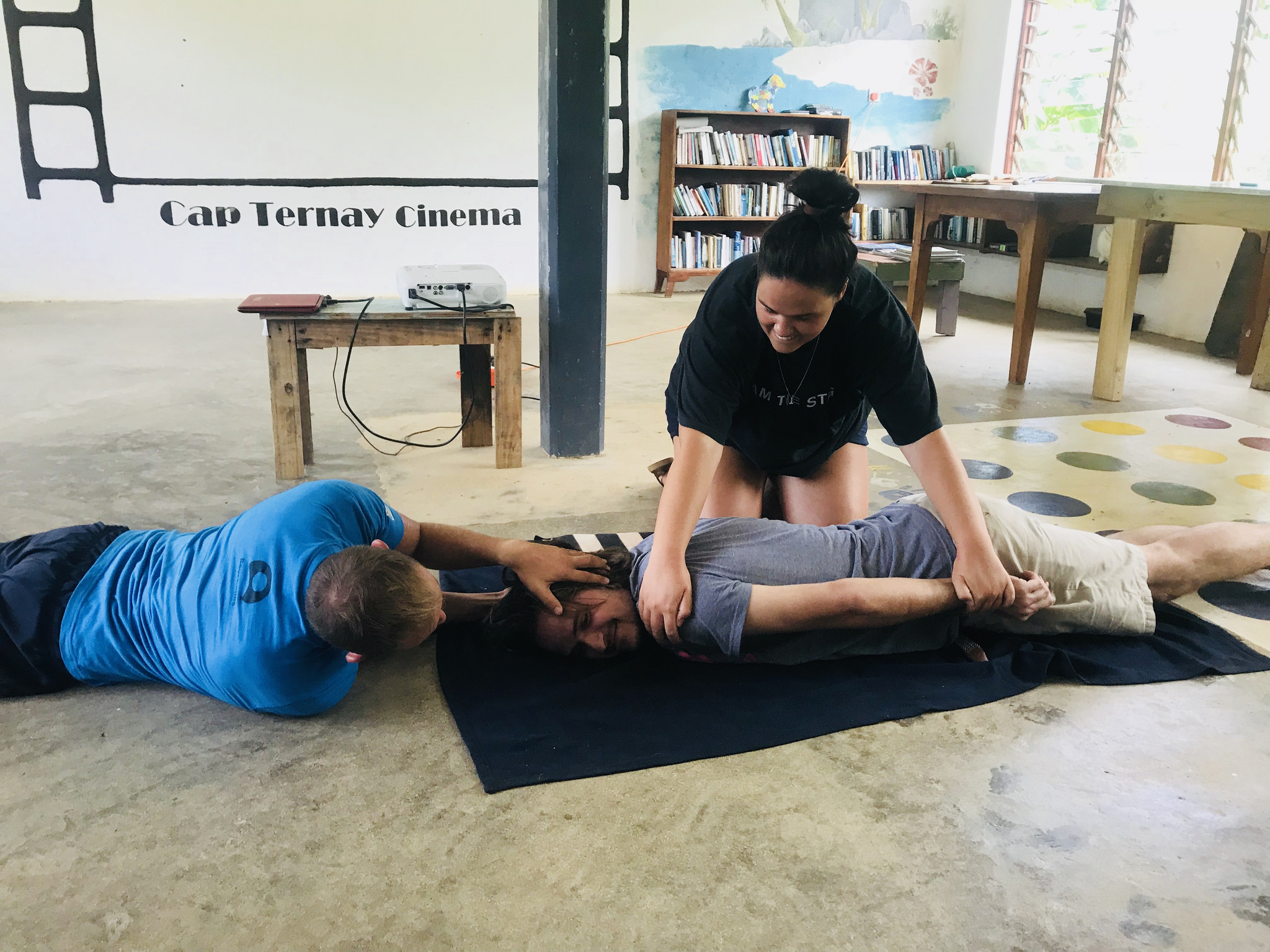 Safety
Upon arrival at the airport participants will be greeted by a GVI staff member. All GVI staff are our own and all our programs around the world are run by our staff. All GVI field staff are background checked, Emergency First Response and safety trained. Our minimum staff to participant ratio is one to six, although on several bases we have a ratio of one to three. When finishing the experience, participants will provide feedback on all aspects of their program.
Health & Safety Case Studies
Country Exploration
Volunteering with GVI not only allows you to participate
on
programs assisting disadvantaged communities or endangered ecosystems, but it also offers wonderful opportunities to travel in the local area in your down time or further afield either before or after your program. Many decide to travel after volunteering, solidifying the lifetime friendships established
on
the
programme
.
Our long term field staff
are
a great source of advice and are here to help you make the most of your time abroad. Remember to ask about discounts on local activities and side trips through your association with GVI. Our field teams have helped us put together the following information on trips and travel options in Thailand and Fiji!
Optional Side Trips
Thailand
Explore the amazing Khao Sok National Park, including the stunning Cheow Larn Lake and 740km² of rainforest and which is home to elephants, leopards, tigers, deer, monkeys, lizards, birds, and the Rafflesia  – the largest flowers in the world, 90cm across with a unique aroma… of rotting flesh! Take a day trip for a quick sample of the park's delights or stay overnight and discover even more – perhaps in one of the jungle tree houses, or even on a bungalow that floats on the lake. Trek through the jungle, kayak around Cheow Larn lake visiting spectacular limestone caves, swim in idyllic waterfalls or just relax and see what you can spot!
Phuket Island, about 90mins south of Khao Lak and renowned for its
colourful
nightlife is also a great stop-off for divers and snorkelers, but if you're not the diving type you can explore Phang Nga Bay by speedboat or sea kayak, stopping off at James Bond Island, made famous by the 1974 film 'The Man With the Golden Gun' before visiting the floating Sea Gypsy village. Phuket is also very popular with surfers, playing host to annual surfing competitions, though there is a great 'secret spot' near Khao Lak… if you're interested GVI staff will show you the way!
Neighbouring
Krabi Province is a treasure trove for intrepid
travellers
; from the crystal clear Emerald Pond to the epic 1,237-step climb up to the Buddha image and stunning views at the Tiger Temple Cave to the enchanted scenery and pools of Than Bok Khoranee National Park to the shopping and late night bars of Ao Nang to the chilled out beaches of Koh Lanta Island to the parties of Phi, where 'The Beach' was filmed – the options are truly endless!
Fiji
Fiji is a beautiful and exotic destination where you will find picturesque white sand beaches, world class dive sites, and Fiji's famous culture of hospitality and warmth. As an island nation, many of your potential activities are water based! Starting locally, just a short boat ride away you can visit the famous pod of dolphins that reside all year round on Moon Reef or
hike
into
forests
and swim in hidden waterfalls or visit one of Fiji's famous island resorts.
In the water, for those that are not dive qualified you could
enrol
in a scuba diving course and dive the various dive sites in the region, home to abundant marine life,
colourful
corals and steep drop-offs. Get lucky with your dive, and visibility can exceed a massive 40m.
Fiji's capital city, Suva, is only a few hours from all our project sites, known for its relaxed atmosphere, energetic nightlife, large farmers market and atmospheric port. Here you can visit the Fiji Museum, where you can find ancient tribal
artefacts
, one of the best exhibitions on tribal art in the Pacific, or read up on Fiji's cannibal past. The old historical capital of Fiji, Levuka, which makes for an interesting day trip, is accessible by ferry and small boat and located on the nearby Ovalau Island.
Further Travelling Opportunities
Thailand
Thailand is a country with a whole range of fantastic places that you could visit. If you have the time and budget, you could consider going to see the following; the waterfalls of the picturesque Khao Yai National Park, the mountain town of Chiang Mai, the local tribes of Nam Province, the beaches of Ko Tao and Mu Ko Chang Marine National Park, the golden kingdom of Ayuthaya, the temples and nightlife of Bangkok and many more…
Fiji
A little further afield, the possibilities just keep on coming. Explore the town of Nadi with its bustling market, nearby hot springs at
Sabeto
or get a feel for the local atmosphere at a rugby match. From Pacific Harbour, join a river safari into the heart of Fiji or dive with bull sharks in Bega Lagoon, one of the world's most famous shark dives.
Either before or after your program you could try island hopping around the 20 volcanic islands of the Yasawa group. These remote islands are characterized by white beaches, crystal blue lagoon and dramatic rugged hills, some with summits 600 meters above sea level.
Staying on dry land, you might consider a trip to the Sigatoka National
Park where
you'll find a miniature desert of rolling sand dunes or a more relaxing option would be the Coral Coast and the Kula Eco Park, Fiji's only wildlife park.
The Team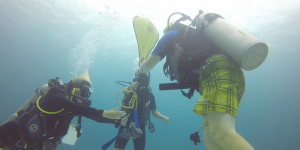 Claire Ogg
Program Manager Caqalai
Meet Claire, our Program Manager on our Caqalai Base in Fiji. Claire received her degree in agricultural and environmental sciences and is also an avid diver and marine conservationist.

She has lived and worked on various continents around the globe and has extensive experience in the diving industry.

While travelling Claire has come across earthquakes, cyclones, volcanoes and pirates!!! Talk about living on the edge! Working for GVI is an adventure in itself, luckily not the dangerous kind. She was first attracted by GVI because of our good reputation within the industry and she likes the fact that we employ, train and give back to the communities that we work in.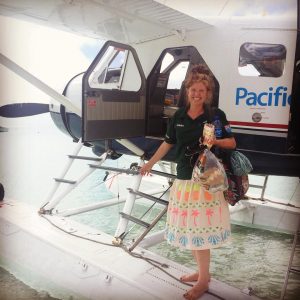 Zara Roche
Operations Manager
Meet Zara, our awesome Operations Manager here in Fiji. Zara started out as an eager education volunteer right here in Fiji back in 2014 and she was impressed by the stunning location in Fiji and GVI's volunteering ethos. She has been with us ever since and has worked her way up to Operations Manager, overseeing all the logistics on our base.

Zara is a water baby and she loves to get into the water for a dive/swim at any opportunity I can. As a GVI staff member in Fiji, she gets the opportunity to dive into the South Pacific paradise often. "When your job doesn't feel like a job because you are getting the opportunity to do what you love is a blessing! GVI is a one big family based organisation and I appreciate working for a company who believes in working together with communities there is a grassroots non-hierarchy approach. This approach I believe is a fantastic way of successfully delivering volunteering projects."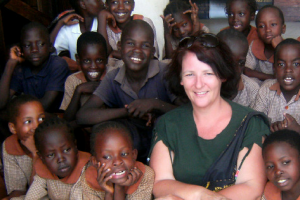 Michele Comber
Program Manager
Meet Michele, our brilliant program manager in Fiji. She has a lot of travel experience in the US around Europe. She volunteered for one year in Mombasa Kenya on the childcare programme, became Project Manager for three years and worked in South Africa on an under 18's programme.

She loves GVI because ''this job gives me the opportunity to work with people who volunteer from all around the world and being able to work alongside individuals who had the same drive and passion as me, willingness to give up their time, share their skills and knowledge to assist the schools and the community groups we work with.

I have had the honour to work with some amazing partners in different countries who have welcomed me into their communities and let me be a part of their lives , giving me the opportunity to grow and learn. Their strength and their faith and their beliefs that all things can be achieved if you have hope will always stay with me.''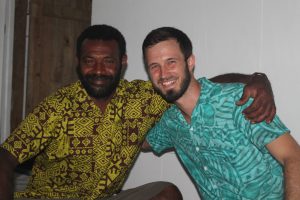 Dane Lee Marx
Country Director
Meet Dane, GVI's cheerful country director for Fiji. He has spent several years as the Conservation and Ecology Manager on Frégate Island, a small private island in the Seychelles. There he had been fortunate to have overseen and implemented projects ranging from monitoring and protection of rare birds, invertebrates and sea turtles to wide-scale habitat restoration as well as management of significant operations responsibilities.

After leaving that position he took a year off to do some travelling – six months of flyfishing, camping and exploring new Zealand, visiting some friends and family in Australia, and some exceptional diving and island hopping in Indonesia. He holds a BSc in Biology, Earth & Environmental Sciences, an Hons. in Zoology, and a MSc in Conservation Biology.

For him, GVI  is an exciting organisation as it carries out an impressive range of high impact, grass-roots level projects in some of the most interesting locations across the globe. This and the combined focus on both community based development and a deep seated conservation aligned perfectly with his own interests and passions.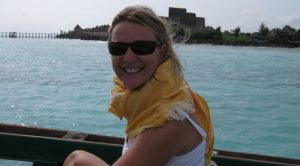 Shayle Havemann
Director of Programs
Meet Shayle, our innovative and driven director for all our projects around the world. She has two honours degrees, one in Industrial and Organisational Psycology, and another in Developmental and Education Psycology. Shayle also has over 10 years experience in setting up, managing and evaluating environmental and community programs across Africa, Asia, Europe and Latin America.

She is well-practiced in facilitating meaningful and effective intercultural engagement and this makes her the perfect person for overseeing our operations in the multicultural country of South Africa.

When not attending meetings or planning her next endeavour, Shayle can be found spending time with her family or taking part in some or other exciting outdoors activity!
Parent Info
'If only every student could do this. It changes your life in all the right ways,' says Chris Heritage, parent of Luke Herritage, one of our teen volunteers who has participated on two GVI programs, one in Costa Rica and another in South Africa.
We are a parent-run organisation that is incredibly serious about health and safety, and increasing the impact, as well as the long-term career benefits of our programs. Our programs help young people develop the skills to select a career path that is personally fulfilling, and live a life aligned to the well-being of our planet and the global community.
Ken and Linda Jeffrey, whose son Sam volunteered with GVI in Thailand, talk about how the experience affected Sam. He also went on to volunteer with GVI again in South Africa. 'I know it sounds like a cliche but in a sense, he did go away as a boy and he came back as a young man. Both of us could recommend GVI without any hesitation to any other parent thinking about exploring an opportunity for their children to explore the world and to see different parts of it.'
Parent Info Pack
Download the Parent Pack and learn more about:
Our staff: All our projects are run by staff, selected, vetted, trained, and managed by our central office.
Health and safety: Our safety practices include a child and vulnerable adult protection policy.
Staying in touch: See what's happening on base, by following a hub's dedicated Facebook page.
Free parent consultations: We would love to talk to you about exciting opportunities available for your child.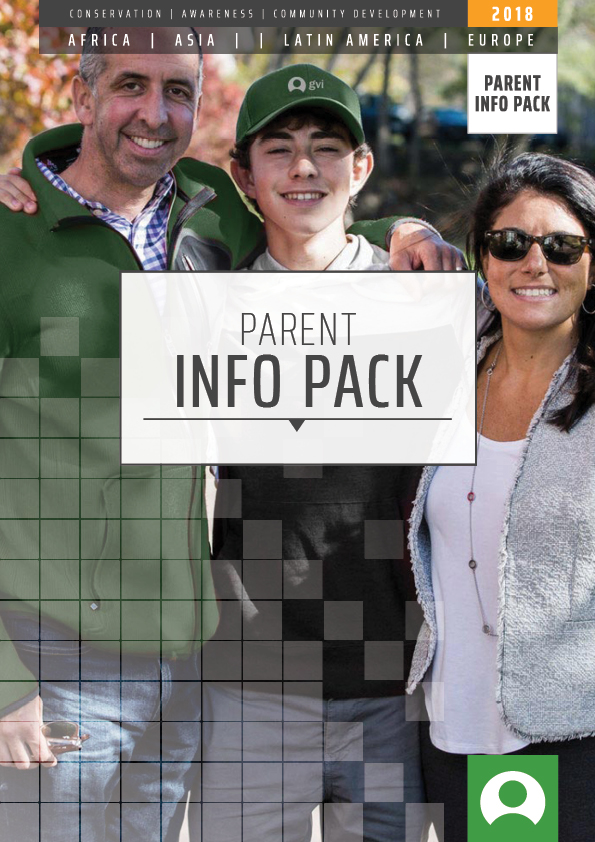 live base updates
Follow GVI Volunteer-In-Dawasamu's Facebook page for live updates straight from the field. Get an idea of the types of projects you might be involved in, meet our staff and participants, experience life on this GVI base, hear about free time activities, and learn about the local culture and environment.
Arrivals
When it comes to support, we ensure that each participant is provided with unparalleled, 360 degree support, from your initial contact with the GVI Family, all the way through your program, and even after, as you become part of the GVI Alumni Team.
As part of this promise, we will ensure, whenever possible, that one of our dedicated staff will be available to meet you at the airport. We will arrange with you prior to your departure that, should you arrive in the agreed upon pick up window, a member of our staff will be there to welcome you, easily identifiable in a GVI t-shirt or holding a GVI sign and wearing a friendly smile. This means there will be someone there to greet you as you land, and from there you will be transported to your GVI base to start your adventure and meet the rest of your team.
Volunteers who went on this program also considered these
Contribute to increasing gender equality by volunteering with disadvantaged women[...]
Teaching
Volunteer with Children
Women's Empowerment
Work with local people on community development projects in the South Pacific
Construction
Teaching
Volunteer with Children
Enhance the education of Buddhist Novice Monks as well as other members of the local[...]
Contact Us
Global Vision International
Level 5, 11 Queens Road, Melbourne, VIC, 3000, Australia
Learning Provider Number (LPN): 10002692
Centre Number: 17067

Download a Brochure