Volunteering opportunities for older adults
jQuery('.mobile-cta').appendTo('#mobile-cta-placeholder .et_pb_code_inner');
GVI retired senior volunteer programs
None of our volunteer programs for adults have a maximum age restriction. That means we have plenty of over 50s volunteering options available. We also offer volunteer opportunities for over 60s as well as senior citizens over the age of 65.
We're of the opinion that senior volunteers probably still have many of the same interests they did when they were in their teens and 20s. It's just that now, they have 30 years, or more, worth of experience. That's why we prize our senior volunteers so highly. We know they have a heightened ability to make a meaningful contribution to any one of our projects aligned to the 17 United Nations Sustainable Development Goals.
The only requirement is that you're keen to make an impact. No experience or specific qualifications are required and all necessary training is provided on the program. Our enrolment managers and on-site staff will make sure to align tasks to your capabilities, interests, and preferences.
Our programs aren't simply volunteer opportunities for retirees, although some people do choose a GVI program as one of their retirement bucket list activities. Senior volunteers can join a program for as little as one week or stay up to 24 weeks. If you do happen to have some time on your hands, you could complete a GVI volunteer abroad program as part of an adult gap year.
The most popular GVI volunteering programs for older adults often have a community development focus, but that doesn't mean over 50s volunteering with us won't enjoy a conservation program. Below we've listed all the different types of volunteering programs we offer. Senior volunteers are sure to find one that aligns to a cause they care deeply about.
This is arguably the most well-loved of our volunteering options for seniors. They can get involved in one of the many educational initiatives we run with a wide range of age groups, from toddlers to adults. In the process, senior volunteers contribute towards the achievement of UN SDG #4, Quality Education.
Seniors with an interest in DIY will enjoy our projects that support schools with improving their learning facilities. They will also be contributing towards United Nations Sustainable Development Goal 4 : Quality Education.
Many senior volunteers choose to join one of our women's empowerment initiatives. In this way, they are able to contribute towards United Nations Sustainable Development Goal 5 : Gender Equality.
Providing communities with information about preventative public health practices contributes towards the achievement of United Nations Sustainable Development Goal 3 : Health and Well-being. Senior volunteers can participate in this global effort by joining one of our public health volunteering programs.
Senior volunteers can contribute to United Nations Sustainable Development Goal 15: Life on Land, by assisting researchers in aiding the conservation of key wildlife species. Keen birders can join one of our birdwatching citizen science volunteer programs, while those looking to explore their more creative side can also consider one of our ethical wildlife photography expeditions.
It's never too late to learn how to dive. On a GVI marine conservation program senior volunteers can earn a professional diving certificate and contribute towards coral reef conservation research and marine plastic pollution prevention. All the while, they'll be contributing towards United Nations Sustainable Development Goal 14 : Life Below Water.
Why volunteer abroad over 50?
Most over 50s considering volunteering are probably looking for a way to volunteer nearby. How many have ever considered volunteering overseas?
We've found that many of those looking for voluntary work who are over the ages of 50 or 60 simply assume that volunteering abroad isn't for them. There's a pervasive idea that volunteering abroad is only for teens or young adults. But this simply isn't true. There are plenty of volunteers abroad over the age of 50. Many choose to travel with GVI.
Volunteering abroad not only allows over 50s to expand their impact beyond local issues, but to connect to a wider, global community, just like volunteers from other age groups.
Plus, if your life plans after 50 include travelling, this allows you to get so much more out of the experience. A volunteer holiday abroad allows you to experience the location not simply as a tourist, but on a deeper level, more like a local.
GVI offers hundreds of volunteer programs abroad for adults across the five continents of Africa, Asia, South and Central Latin America, Europe, and Australasia. All our volunteer trips abroad for adults are open to senior volunteers.
The great thing about GVI volunteer holidays is that they don't only provide voluntary work abroad for over 50s and 60s. During the evenings and weekends, senior volunteers are free to explore the local sites. Our volunteering program in Nepal even includes a trek to Everest Base Camp or Annapurna in the program fee. Senior volunteers who are confident in trekking the Himalayas are welcome to join the trip.
Best volunteering holidays for over 50s
We've found that the locations our senior volunteers are most likely to choose can be found in South East Asia, specifically, Laos, Nepal, India, and Thailand. We're confident in saying that these are our best volunteer abroad programs for older adults, because they're fan favourites. In all these locations, senior volunteers can get involved in community initiatives, while in Thailand there are also conservation volunteer opportunities available for older adults.
Most over 50s volunteering with GVI choose to travel to Laos, and it's easy to know why. They travel to the ancient capital of Laos, Luang Prabang, a UNESCO world heritage site where gilded temples dot the jungled hilltops. Here, our international volunteer opportunities for older adults include teaching English to Buddhist novice monks and supporting girls and women with their academic and professional development.
The second-most popular senior volunteering opportunity abroad is located in Pokhara, the gateway to the Himalayas. Here, senior volunteers can help to support education initiatives by teaching children or improving school facilities.
They can also get involved in helping women empower themselves through developing their professional skills. Senior volunteers live on the edge of Phewa Lake where they can see the Annapurna mountain range on a clear day. They learn about local Hindu and Buddhist traditions as well as anti-human trafficking intiatives.
Many of those looking for international volunteer work for seniors choose our development initiatives in the Southeast Indian location of Kochi. Here, senior volunteers support the education of local students by teaching or facilitating sports lessons. They also lead gender equality workshops and assist women with improving their computer skills and conversational English. On the weekend, senior volunteers can book a houseboat trip along the Keralan lakes and rivers where they can spot Indian wildlife like endangered Asian elephants.
GVI provides two international volunteering opportunities in Thailand for seniors. Both combine community development with conservation efforts. In a village located among the hilled forests of Northern Thailand, an hour from Chiang Mai, senior volunteers can help conserve endangered Asian elephants. They will help the local community with reintegrating elephants into the wild and scaling up alternative sources of income. At our other location, a small village in the Southern Thai province of Phang Nga, senior volunteers can get involved in endangered green turtle conservation. They can also help local students improve their employability by teaching English.
We also offer overseas volunteer work for seniors in Siem Reap, a resort town close to the iconic Angkor Wat temple. Here, over 50s volunteering abroad teach local students. There are also other ways for senior volunteers to contribute. They can support gender equality, public health, and environmental awareness initiatives. A visit to Angkor Wat, the largest religious building in the world, makes for the perfect weekend trip.
Our sustainable development initiatives in Ghana provide meaningful work abroad opportunities for older adults. Here, senior volunteers work in the small seaside town of Kokrobite, an hour from the vibrant capital of Accra. They can immerse themselves in West African culture while contributing to children's education and women's empowerment. Senior volunteers can visit Kakum National Park during weekends to spot African forest elephants.
If you thought a marine conservation expedition was off the table for senior volunteers, think again. GVI international volunteer work opportunities for seniors include a marine conservation program in one of the top dive locations in the world, Seychelles.
Senior volunteers can assist conservationists with preserving the precious natural habitat of Seychelles. They can contribute to coral reef conservation research and marine plastic pollution prevention while living on Mahe island. Another one of our working holidays abroad for over 50s is located on Curieuse island. Here, senior volunteers assist the only researchers permanently stationed on the island with collecting data on rare species like hawksbill and green sea turtles, giant Aldabra tortoises, and sicklefin lemon sharks.
Senior volunteers can experience the South African wild while working to conserve it with GVI. Our senior volunteers are based in a private nature and wildlife reserve, in the Limpopo province, an hour from the famous Kruger National Park. They help researchers with conserving lions, leopards, cheetahs, elephants, rhinos, birds, and other South African wildlife.
We also offer voluntary work for over 50s and 60s in a small seaside town about an hour from Cape Town, where the community is affected by the legacy of Apartheid. Senior volunteers assist the community by supporting the education of young learners, teaching sports, facilitating women's professional development, and creating awareness about preventative health practices.
Another top diving destination where senior volunteers can join a marine conservation project with GVI is Fiji. Here volunteers live on Caqalai, a tiny island in the Pacific Ocean. They help with the research and conservation of corals and other marine life.
Those over 50s more interested in community development can join our projects in the district of Dawasamu, on Fiji's main island of Viti Levu. Senior volunteers can teach students or get involved in workshops focused on prenatal, infant and toddler health.
What's better than spending your summer on a Mediterranean beach? Helping to protect sea turtles while you're at it. Our volunteering overseas opportunities for over 50s include a sea turtle conservation project in the Greek town of Giannitsochori. The area is known to be one of the key breeding grounds for loggerhead sea turtles.
In Costa Rica, we offer working holidays abroad for over 50s in two locations. Senior volunteers with an interest in conservation can join us at our remote research base, Jalova, in Tortuguero National Park. They will assist researchers with studying endangered sea turtles, jaguars, and birds. There are also volunteer opportunities in Costa Rica available for seniors interested in community development projects. These projects are based in Cimarrones, a town located in central Costa Rica. Here, our senior volunteers support local economic refugee communities with improving educational and professional development opportunities.
In the Carribean beach town of Puerto Morelos, senior volunteers can participate in both marine conservation and community development projects with GVI. Marine volunteers contribute to coral reef research and restoration, as well as marine plastic pollution prevention. Community volunteers work with Save The Children to support childhood development initiatives. In their free time over 50s volunteering with GVI can explore the Mayan ruins and Mexican cenotes.
Our volunteer opportunities for senior citizens in Peru are based in Oxapampa. This is a great option for those senior volunteers who have a visit to Peru jotted down on their retirement bucket list. Senior volunteers will work in the Peruvian Amazon on wildlife conservation initiatives and support the community with teaching English and increasing their professional opportunities.
Senior Volunteer FAQs
Will there be other over 50s volunteering overseas with me?
All of our participants joining a volunteer abroad program for adults do so as individuals. They arrive at one of our locations around the world and join a group of volunteers from a range of nationalities and backgrounds.
If you'd like to guarantee that you'll have other senior volunteers living and working with you be sure to speak to one of our enrolment managers. While we won't give out any personal information without first gaining full permission first, we can check the demographics at your selected locations during the time you plan to volunteer with us. You're most likely to find senior volunteers in Laos, Nepal, India, and Thailand.
You could also always arrange to volunteer with a group of friends, family, or a spouse. We offer both group travel options and family volunteering holidays abroad.
What is the accommodation like for senior volunteers?
While specific accommodation for senior volunteers isn't automatically included when booking onto a GVI program, you can opt to choose one of our private accommodation options.
GVI programs are usually communal experiences, with volunteers from around the world sharing a dormitory-style living area. Private accommodation, at a guesthouse, hotel, or apartment complex, is located close to the communal volunteer accommodation. This allows volunteers to share their volunteer experience with others living in the volunteer house while having the option of slipping away for some restful quiet time whenever they feel like it.
To book private accommodation, simply speak to your enrolment manager when booking your GVI program. Please note that, unfortunately, not all our locations have private accommodation options available yet.
Do senior volunteers need to be able to speak a foreign language in order to volunteer abroad?
The simple answer is, no you don't. At all our bases around the world, our volunteers and staff members speak English. People in the communities we work with are also keen to practise their English. If we ever happen to run into difficulties communicating with community members, our community liaisons act as translators.
In only three of our locations around the world will it be necessary to be able to speak a language other than English. At our three community development projects in Costa Rica, Mexico, and Peru, volunteers who aren't fluent in Spanish will need to attend Spanish classes. If you were thinking of learning a new language during retirement, this could be the perfect opportunity.
When booking a community-focused volunteering program in Latin America, your enrolment manager will be sure to ask about your Spanish fluency. They will then arrange in-country classes for you, if you're not yet confident in the language.
Do your senior citizen volunteers need to pay to volunteer abroad?
This is actually a question volunteers of all ages ask. The reality is that free volunteer abroad programs simply aren't as ethical or as safe.
If you're looking to volunteer abroad for free you might be applying directly to a local sustainable development organisation. You'll have no guarantee that the organisation is reliable or that their work is really helpful.
You might also unwittingly be putting a strain on the local development organisation. They will be allocating resources towards training and supporting you that could be used more directly in making an impact.
Program fees allow us to guarantee volunteers the opportunity to make a long-term positive impact with no risk of harm. All our projects are aligned to one or more of the 17 United Nations Sustainable Development Goals and our Badge of Ethics is our way of assuring volunteers that all activities have been assessed and approved by our Ethics Officers.
We employ our own in-country staff to vet local partners. Their work is checked against our ethical principles and our progressive stances towards orphanage volunteering, medical volunteering, as well as animal handling and captivity. These policies are reflective of current best practices in international development informed by our third party experts. We're also continuously improving our principles, stances, and operational functions to align with new research and updated thinking.
Our in-country staff develop projects that allow international volunteers to contribute to local partner objectives. Part of their job is to make sure that the tasks assigned to international volunteers are appropriate to their skill level.
This not only creates a satisfying experience for volunteers but also means that they can rest assured that their hard work will be of use to the local partner. Project-specific training is also provided to international volunteers by GVI staff. Finally, our staff track the impact of our volunteers on local projects, allowing us to compile an annual impact report.
International volunteers, looking to volunteer abroad for free, would also have to source their own food, housing, and transport in a foreign country, often with little experience in these matters.
With over two decades of volunteer management expertise, we're accomplished at dependably providing volunteers with secure accommodation, two or more meals per day, airport pick-up and drop-off, as well as reliable transport to and from project sites.
Program fees allow us to promise our volunteers award-winning levels of safety and support. In fact, we're a British Standards 8848 compliant tour provider. This means we meet the strictest regulations for international adventure travel in the United Kingdom.
All our operations are aligned to our high quality health and safety standards. Some of these standards include ensuring that our staff are Emergency First Aid certified and that all our accommodation locations have medical facilities closeby.
In addition, all volunteers are assigned a personal travel support coordinator to assist them with preparations like packing lists and visas for their trip abroad.
To learn more about why paying to volunteer abroad is the most conscientious choice, browse our article on the subject.
We don't, at this moment, offer a special fee for senior volunteers. But there's nothing that stops senior volunteers from applying for one of our scholarships. The majority of our scholarships don't have any age restriction.
If you're a US citizen, you can also apply for a tax admission. Just be sure to speak to a tax consultant first, and remember that any deductions are always only granted at the sole discretion of the IRS.
Download our program brochures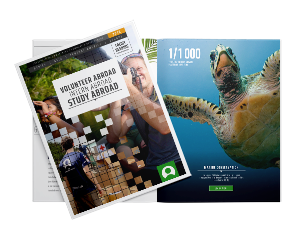 I left school and thought about being a vet but also a footballer, but I was always the last on to be picked! I was never academically minded, a lot of people from the council estate did not go to university, it was very rare in the nineties. I worked in catering for a few years, also in mental health and working with the homeless, now I work cleaning trains. When I left Limpopo I was seeing what other people were going onto, I learned so much and got so inspired. I thought you know what, I should take this a bit further! I didn't do anything about it because of the fear, I'm 47 with a decent job, I thought I can't give this up to go to university and university wont accept me without qualifications, they'll laugh at me and tell me to go away! Then COVID came, and I was sat there on September 19 and I thought you know what, you can't take anything for granted, if I want to do something I should go for it! I applied to Chester University and had a Zoom call and they accepted me! I can do the degree alongside full time work. To be honest I've not got a clue what I want to do! I learned so much from watching wildlife and David Attenborough documentaries, even if I do this course and just learn, then I've gained knowledge, or in 4 or 5 years time I could get a job in this field! At the moment my focus is to go there to learn.