Program Details
Code: KHPP0494N
Short Term Community Development Internship In Cambodia
Immerse yourself in the local culture and gain valuable teaching experience while you contribute to sustainable development projects.
Program Information
This is an excellent opportunity to authentically experience the unique culture of Cambodia, as well as gaining valuable community development experience. Get involved in teaching English, run women's empowerment workshops or assist with construction projects. Our internship is rooted in contributing to a selection of UN Sustainable Development Goals, including Goal #2 - Zero Hunger, Goal #4 - Quality Education, Goal #6 - Clean Water and Sanitation and Goal #10 – Reduced Inequalities.
Overview
Travel to Cambodia, famed for it's magnificent landscapes and rich cultural history. GVI participants who join our internship in Cambodia will be stationed in Phnom Penh, Cambodia's capital city.
This internship is geared at helping interns to gain invaluable teaching and community development experience. On the ground this can be anything from helping to significantly improve the English language knowledge of the local community, or painting and rebuilding homes or schools.
You will be an essential part of the community team and after the initial training you will plan and lead your own classes or workshops and help to train new participants who also want to contribute towards community development. With your help, we hope to expand the community program further, to include more projects as the needs arise.
As you will be working and living in the local community in Phnom Penh you will become truly immersed in this fascinating and friendly community, as well as having the chance to learn some Khmer (pronounced as kuh-migh), the local language.
After completing your internship successfully, selected participants could be given the opportunity to work for GVI and continue their journey with us. Positions can be paid or unpaid.
All our internships will help you develop personally and professionally, develop your leadership skills, and allow you to develop a variety of key soft and hard skills that will put you a step ahead of the rest. Our highly experienced field staff will help you gain and improve vital skill sets to improve your future job prospects.
Program Details
GVI Live
25 Sep
The magic is in the details!...
The magic is in the details! https://t.co/fB8J6hPeRs https://t.co/ghDW910H6b
25 Sep
A blog with some good...
A blog with some good career advice and a gratuitous travel picture. For when you've exhausted the 9gag feed, LADBible hasn't [...]
Posts from the Field
Volunteering abroad is your chance to learn a new culture and language. As well as developing a new skill, practicing the [...]
GVI Blog
Classroom learning only teaches you so much. Internships allow for a completely immersive educational experience.
Finding internships can be tricky, but finding an internship that will truly benefit your chosen career is trickier! Here's [...]
Life on the Internship
You will work alongside other like-minded participants and learn about the day to day running of the project and receive teacher and community training from staff and older interns. Your days will be split between various community projects, the specific projects depend on the needs of the community at the time. We have partnered with local partner organisations to assist us in addressing existing issues within this community.

Accommodation
You will stay in a basic but comfortable accommodation in a central location with shared dormitory style rooms and provided meals. You might need to help prepare dinner on a rotational basis; it is a great time to bond with your fellow interns and share experiences.

Weekends
Work during the week will be fulfilling but also tiring at times which is why weekends are yours for exploration. You will be free to spend your days learning about aspects of the local culture and getting involved in a variety of different activities from exploring the tropical beaches to visiting the fishermen of the floating villages on the lake.
Project Details
The focus of the community internship is on ensuring that the local community acquires the knowledge and skills needed to improve their quality of life in a sustainable way. Our local partners in Cambodia will help us on an ongoing basis to identify the exact needs of the community at a specific point in time. This would involve projects such as improving the basic living conditions and educational facilities for local community members. Your contribution will add to the funding and hands-on support needed to achieve the long-term aims and sustainibilty of our projects.

How this project makes a difference:
Our programs in the local community aim to provide an improved quality of life where the community receives an opportunity to improve their quality and level of education and develop personally and professionally. The goal is to sustianably empower the community so that they are equipped to continue this in the long-term, increasing their job prospects through their ability to understand another language and by obtaining new skills.

Cambodia's short, mid, and long-term objectives:

All of our programs have short, mid and long-term objectives that fit with the United Nations Sustainable Development Goals. This enables us to report on our collaborative impact across the world in a streamlined manner, measuring which UN SDGs we are making a substantial contribution to. Furthermore, this will help our local partners and communities measure and visualize their contribution to the UN SDGs.

Upon arrival to base, you will be educated about the history of the UN SDGs. You will learn about the specific goals of your location, the long-, mid- and short-term objectives, and also clarification of how your personal, shorter-term involvement contributes to these goals on a global level.

Our aim is to educate you on local and global issues, so that you continue to act as active global citizens after your program, helping to fulfill our mission of building a global network of people united by their passion to make a difference.
What's Included
24-hour emergency phone

24-hour in-country support

Access to Alumni Services and Discounts

Airport pick-up (unless otherwise stated)

All necessary project equipment and materials

All necessary project training by experienced staff

Location orientation

Long term experienced staff

Meals while on project (except on work placements for long term internships)

Safe and basic accommodations (usually shared)

Welcome meeting
What's Not Included
Additional drinks and gratuities

Extra local excursions

Flights

International and domestic airport taxes

Medical and travel insurance

Personal kit

Police or background check (where necessary)

Visa costs
Exploration
Welcome to Cambodia, a country in Southern Asia famed for its pristine tropical beaches untouched by tourism and an assortment of cultural attractions.

You will get a chance to experience the magic of Cambodia's capital city, Phnom Penh, and get a chance to see a side of Cambodia that most travellers miss out on.

Weekend Explorations
The Royal Palace is a distinct landmark in Phnom Penh and also the official residence of King Sihamoni. Although a large part of it is not open to the public, be sure to visit the Silver Pagoda, also known as the Temple of the Emerald Buddha. The Silver Pagoda got its name from its floor which is covered in five tons of silver! The Emerald Buddha is a human sized, Baccarat-crystal sculpture found in this temple.

When you travel slightly north of the Royal Palace you will find the National Museum of Cambodia, home to an array of the finest Khmer sculptures. Relax in the lush garden in the museum's courtyard.

Take a walk down memory lane when you visit the Tuol Sleng Genocide Museum, a former high school that was turned into a prison during the 1970's. Security Prison 21, an initiave of the Khmer Rouge leaders, tortured and killed over 17 000 people. This museum provides an insight into Cambodia's history.

Further Travelling Opportunities
If you have time the time and budget to travel before or after your program, we highly recommend you check out these places:
- The Temples of Angkor is a place of national pride and spiritual inspiration is a point of pilgrimage for all Cambodians.
- Cambodia's southern islands are untouched by commercial tourism and provide you with pristine coastlines and rustic accommodation.
- The Mondulkiri Province stands in contrast to the rest of Cambodia. Its name literally means 'Meeting of the Hills', and it consist of a combination of mountains, hills and rainforests. You can expect some spectacular wildlife sightings here, including elephants, leopards, monkeys and birds.
- Travel north to Siem Reap to explore the grand Angor Wat temple, the largest religious monument in the world! You can catch a 40 minute flight to Siem Reap from Phnom Penh.
The Team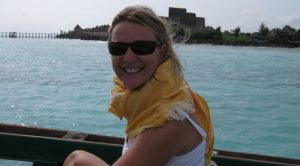 Shayle Havemann
Director of Programs
Meet Shayle, our innovative and driven director for all our projects around the world. She has two honours degrees, one in Industrial and Organisational Psycology, and another in Developmental and Education Psycology. Shayle also has over 10 years experience in setting up, managing and evaluating environmental and community programs across Africa, Asia, Europe and Latin America.

She is well-practiced in facilitating meaningful and effective intercultural engagement and this makes her the perfect person for overseeing our operations in the multicultural country of South Africa.

When not attending meetings or planning her next endeavour, Shayle can be found spending time with her family or taking part in some or other exciting outdoors activity!
Volunteers who went on this program also considered these
Immerse yourself in the local culture and contribute to valuable community development[...]
Volunteer with Children
Teaching
Construction
Live in the Caribbean and collaborate with Save the Children on this short term community[...]
Teaching
Volunteer with Children
Explore the tropical country of Fiji on a hands-on short-term teaching internship
Contact Us
Global Vision International
Level 5, 11 Queens Road, Melbourne, VIC, 3000, Australia
Learning Provider Number (LPN): 10002692
Centre Number: 17067

Download a Brochure