Volunteer Healthcare Project in Fiji
Healthcare support is a major benefit to any local community. This program aims to enrich the Dawasamu community through initiatives encouraging a healthier way of living.
Volunteer Healthcare Project in Fiji
Healthcare support is a major benefit to any local community. This program aims to enrich the Dawasamu community through initiatives encouraging a healthier way of living.
Program Code: FJMO0483P
Our Impact
Location
Volunteer in Dawasamu
Our programs here are based in two stunning locations. One is based on the idyllic Caqalai Island pronounced '
than-

ga

-

lai

'
in the Lomaiviti Island group.
Caqalai
is a tiny island (you can walk around it in 15 minutes) defined by white sand beaches and a lush interior. The island is on the edge of an expansive reef system and nearby to 10 small villages located on the
neighbouring
Moturiki Island. The second is in the Dawasamu District on Viti Levu, remote and known for its proximity to Moon Reef and its resident pod of Spinner Dolphins. Based in the villages of Silana and Natalei, this is a perfect location to experience true Fijian life, in an amazing region defined by dense jungle, volcanic mountainsides and the tribal culture of Tailevu Province.
Program Information
Program Snapshot
Working with the community and local nurses in Fiji, assist in collecting data about the various obstacles facing its members, while running local healthcare workshops in the region.
Overview
GVI's programs in the region aim to promote health and all-round wellbeing in these communities. Dawasamu healthcare volunteers work closely with local community health workers.
There are also monthly visits between GVI Healthcare Volunteers and the District Nurse to assess the success of the work being done. Volunteers may also utilise official government health materials and resources to create interactive workshops in collaboration with recognised local authorities. Furthermore, volunteers assist by creating supporting resources, and conducting supplementary research to assist the district nurse to collate information about individual villages, particularly with a focus to assist in diagnosis of problem areas, and monitoring recurring ailments.
HIGHLIGHTS



Contributing to the United Nations Sustainable Development Goals.




Promoting the importance of a healthy eating through better understanding of nutrition and the benefits of a balanced diet.




Collaborating with the community in order to grow opportunities within the local healthcare sector.




Promoting the importance of controlling the disposal of non recyclable waste.




Promoting the importance of preventive health measures.



Program Details
Life On Base
GVI Dawasmu is located in a bustling village right next to the beach, meaning you can hear the waves crashing from your bed. Boasting magnificent sunset views and swaying palm trees, this is the perfect place from which to experience Fiji's famous culture of hospitality and warmth. The Dawasamu base is also close to Moon Reef with its resident pod of Spinner Dolphins.
Accommodation Tour
What's It like?

If you'd like to find out what the experience of joining a GVI project is really like, simply contact us and we'll put you in touch with one of our many Alumni.
We'll try to match you to an Alum based on your location, nationality, age, stage of academic career, gender, and program interests. This allows you to gain insights into the experience that is most relevant to you.
Depending on your location you might be able to speak to an Alum over the phone or online, or meet up with them face-to-face at a coffee shop nearby. We also run a series of small events around the world where you can speak to GVI Alumni, Ambassadors and staff members.
Live Updates
Follow GVI Volunteer-In-Dawasamu's Facebook page for live updates straight from the field. Get an idea of the types of projects you might be involved in, meet our staff and participants, experience life on this GVI base, hear about free time activities, and learn about the local culture and environment.
Arrivals
When it comes to support, we ensure that each participant is provided with unparalleled, 360 degree support, from your initial contact with the GVI Family, all the way through your program, and even after, as you become part of the GVI Alumni Team.
As part of this promise, we will ensure, whenever possible, that one of our dedicated staff will be available to meet you at the airport. In most locations, we also set up a Whatsapp group to help with managing airport arrivals. We will arrange with you prior to your departure that, should you arrive in the agreed upon pick up window, a member of our staff will be there to welcome you, easily identifiable in a GVI t-shirt or holding a GVI sign and wearing a friendly smile. This means there will be someone there to greet you as you land, and from there you will be transported to your GVI base to start your adventure and meet the rest of your team.
Flights
Please note that if you use this service delivered by Student Universe and / or if you buy your ticket through this portal you are agreeing to the Student Universe Privacy Policy and Terms and Conditions. Your agreement regarding flights will be between you and Student Universe or as per their terms and conditions.
As GVI is providing this portal as a service we are not responsible for the accuracy of this site.
We are also not responsible for any loss, damage (including loss of profits or consequential damages), injury, illness, harm or death in relation to your flight and travel arrangements.
Meet the team -
Senior Field Management
Dora Szabados
Country Director for Fiji
Meet Dora. Dora is originally from Hungry and is the Country Director of Fiji. She is based in the capital Suva, Fiji, and holds a Bachelor's Degree in Foreign Relations. Turns out Dora has a identical twin sister and also is the world's biggest fan of Stephen King!
Michele
Program Manager
Meet Michele. She is from the UK and has been in Fiji for four years now. She is the current Program Manager at GVI's Base in Dawasamu, Fiji. One thing about Michele is when she is stressed, she loves to bake. A nice cake could be just what you knead after a day on project!
Your Impact
All of our programs have short, mid and long-term objectives that fit with the United Nations Sustainable Development Goals or UN SDGs. This enables us to report on our collaborative impact across the world in a streamlined manner, measuring which UN SDGs we are making a substantial contribution to. Furthermore, this will help our local partners and communities measure and visualise their contribution to the UN SDGs.
Upon arrival to base, you will be educated about the history of the UN SDGs. You will learn about the specific goals of your location, the long-, mid- and short-term objectives, and also clarification of how your personal, shorter-term involvement contributes to these goals on a global level.
Our aim is to educate you on local and global issues, so that you continue to act as active global citizens after your program, helping to fulfil our mission of building a global network of people united by their passion to make a difference.
We have been running various community development and educational programs in Fiji since 2010, working to make a long-term impact in the community, in collaboration with our local partners. Furthermore, each goal and objective is determined in collaboration with the local communities and partners of the Dawasamu District. GVI works to develop alternative livelihood strategies, gender equality initiatives, rainwater harvesting projects and to enrich the education available to children. These initiatives assist with further community development, and providing better education can empower the students to reach their aspirations and broaden their employment opportunities in the future.
All these initiatives allow us to offer support to the community and our local partners, and to address many of the UN Sustainable Development Goals, such as #1- No poverty, #4 – Quality Education, #5 – Gender Equality, #6 – Clean Water and Sanitation and #12 – Responsible Consumption and Production.
Project Objectives
GVI Dawasamu's Long-term Objectives:
1. Improving waste management in Dawasamu by developing community-based waste management solutions
2. Introducing and promoting the principles of WaSH and preventative health measures in the Dawasamu District
3. Developing and delivering sessions for young children that support development in the key developmental areas of cognitive, emotional, social and physical skills.
4. Empowering community health workers to better facilitate and document their role within the community
5. Introducing kitchen vegetable and herb gardening to families and Feed Your Family First to Dawasamu District by providing education and capacity training on nurturing seeds, planting sustainably, fertilizing, and maintaining a family-sized vegetable plot
Publications
Our Ethics
Below is a list of core ethics and best practices we believe are essential to the operation of high quality, ethical volunteer and sustainable development programs. We believe that all responsible volunteer and sustainable development operations should focus upon these principles. If you are considering volunteering, these are some of the key considerations you should question, to ensure that your time and money contributes towards positive change.
We want to constantly develop our own understanding of ethical best practice. In so doing, we aim to provide an exemplary industry standard for other education institutions, international development organisations, and social enterprises. Our Badge of Ethics stands for the drive to always do good, better. Find out more, click on the Badge below.
Our 10 Ethical Commitments
Locally Driven, Collaborative Projects
We aim to design all our projects in collaboration with local organizations and communities and ensure that they are locally driven.
Clear Objectives & Sustainable Outcomes
We aim to clearly define short-, mid-, and long-term objectives with sustainable outcomes for all our projects.
Impact Reporting
We aim to track, record, and publish the impact of each of our projects.
Working Against Dependency
We aim to build in-country capacity by assisting local organizations in becoming self-sustaining.
Responsible Exit Strategies
For each local organization we work with, we aim to have a plan in place for withdrawing support responsibly.
Clear Roles & Specialized Training
We aim to ensure that ever participant is assigned a clear role and that they are fully trained and supported to carry out their work by specialized staff.
Respect for all
In all our actions we aim to respect the skills and efforts of all and seek to protect the rights, culture and dignity of everyone who engages with GVI.
Local Ownership
We work to ensure that credit for the results of any project, along with any data collected, research conducted, or Intellectual Property developed, remains the property of local organizations.
Transitioning from the Orphanage Model
We do not condone and aim to withdraw support of orphanages and residential care centers.
Child and Vulnerable adult policies
We will live by our Child Protection and Vulnerable Adult policies.
Continual Development
As an organization, GVI is committed to striving toward best practice, and to educating both our potential participants, our partners, and the world at large about them. Both the volunteering and sustainable development sectors are increasingly, and rightly, under scrutiny. Many recent local and global articles highlight poor practices and questionable ethics. GVI is widely recognized for striving to apply global best practice in the volunteering, education and sustainable development sectors throughout our operations by reputable organizations such as ChildSafe.
However, global best practice is always evolving and we dedicate both time and resources to engage with internationally respected experts and learn from the latest research to ensure our programs both fulfil their potential to create maximum positive impact, and minimise their potential to create unintentional negative impact. Along with and as part of the sustainable development and volunteering community, we are constantly learning and applying this learning to practice. We do not always get everything right, but we seek feedback from our community members, partners, participants and our staff, and react accordingly. We know are already doing a great job, and feedback we have received confirms this, but we aim to do even better and are continuously refining our operations to improve upon our already excellent reputation.
Training
A GVI program is an investment in your career. No matter which you choose, you will be working toward improving your employability by mastering new social skills, gaining further technical expertise and earning qualifications in many cases. Most of our staff are, in fact, GVI Alumni, and we have helped many of our Alumni discover, move toward, and earn their own personal dream jobs. Each program includes introductory workshops, ongoing presentations, as well as on-the-ground professional support provided by our very own trained staff members. In addition, our training programs are critical for helping us to ensure the long-term impact of our sustainable development projects around the world.
For All GVI Participants
Introduction to GVI as a whole and the work in your specific location. Learn about the short, mid, and long-term objectives of the sustainable development projects at your base, which United Nations Development Goals they impact most directly, and which local partners we work with.
Health and Safety Training
Learn about the Emergency Action Plans in place at your base, the full Risk Assessment, and best practices for personal safety.
Child and Vulnerable Adult Protection Training
Learn about the importance of child and vulnerable adult protection best practices and how to apply them while on project.
For All Participants at Dawasamu
Dawasamu Cultural Presentation
Overview of Fiji and its traditions and culture
Dawasamu Welcome Presentation
Overview of GVI and Project work.
All about the village of Silana, traditions and cultural information.
Dawasamu on Education and Community project.
During your first days on project, you will participate in several training sessions that emphasise the key teaching skills useful for our education program, including TEFL techniques and lesson planning, amongst others. You will also gain soft skills in communication, collaboration and organisation. You will also complete an overview of completed project work, items in process, as well as future plans. Lastly, you will learn how our work contributes and longer term sustainable goals, and how they link to the SDG's.
Exploration
Joining a program not only allows participants to collaborate with communities or work toward preserving unique ecosystems but it also offers plenty of opportunities to explore the surrounding area or travel further to see what other parts of the region have to offer.
Long term field staff are a great source of advice, and have helped us put together the following information on local travel options. Many decide to travel before or after their experience (subject to immigration restrictions), solidifying the lifetime friendships established on program. Please note that the below suggestions are not included in the program fee, and are for the individual to organise at their own expense.
Weekend Trips
Dawasamu surrounds
Go for a hike into the nearby forests and swim in hidden freshwater waterfalls.
Levuka
The old historical capital of Fiji, Levuka, makes for an interesting day trip and is accessible by ferry and small boat and located on the nearby Ovalau Island.
Historical excursions
Explore the history of this island nation by visiting the Fiji Museum in Suva, where you can find ancient tribal artefacts, one of the best exhibitions on tribal art in the Pacific.
Suva
The capital city of Suva is known for its relaxed atmosphere, energetic nightlife, large farmers market and atmospheric port.
Diving
If you are diving trained you can enjoy scuba diving at the various resorts and dive sites in the region. Home to abundant marine life, colourful corals and steep drop-offs. Get lucky with your dive, and visibility can exceed a massive 40m.
Dawasamu surrounds
Go for a hike into the nearby forests and swim in hidden freshwater waterfalls.
Dawasamu dolphins
A short boat ride away you can visit the famous pod of dolphins that reside all year round on Moon Reef.
Further Travels
Shark Dive
Dive with bull sharks in Bega Lagoon, one of the world's most famous shark dives destinations.
Fiji's Nature Parks
Consider a trip to the Sigatoka National Park, where you'll find a miniature desert of rolling sand dunes or a more relaxing option would be the Coral Coast and the Kula Eco Park, Fiji's only wildlife park.
River Safari
From Pacific Harbour, join a river safari into the heart of Fiji
Sabeto hot springs
Explore the town of Nadi with its bustling markets or visit one of Fiji's famous island resorts for a day of luxury and pampering.
Nadi
Explore the town of Nadi with its bustling markets or visit one of Fiji's famous island resorts for a day of luxury and pampering.
Cultural Immersion
Engaging intimately with a new context teaches not only global awareness but adaptability and critical thinking, skills highly valued in the modern marketplace. Local and cultural immersion is encouraged on all our programs around the world, and is also one of the most enjoyable aspects of your experience. Luckily, there are many activities you can get involved with in your free time, or before and after your program. On our community programs the focus is on cultural topics, while on marine or wildlife programs the emphasis is more on the environmental element. Use your evenings and weekends to explore diverse and eclectic topics like Theravada Buddhism in Laos or how plastic pollution and climate change affects Indian Ocean coral.
Local Handcrafts
Fiji has a thriving tourist souvenir industry, and local artists produced many souvenirs such as tanoas, war clubs, throwing clubs and intricately carved wooden items including bowls and dishes.
Spirituality & Religion
The official religion of the Republic of Fiji is Christianity, which is practiced by the majority of the population, who attend the Methodist Church of Fiji and Rotuma found throughout the country. Hinduism is also practiced in the country.
Cooking
The national dish of Fiji is Kokoda, which is a combination of fresh fish, pickled in lemon juice. Coconut milk is then added to it along with tomatoes, chillies and seasoned with salt and served as a starter. A large part of Fijian cuisine features fish and seafood, along with the staples of taro root, cassava, kumala sweet potato and breadfruit.
Festivals
There are festivals throughout the year, the most notable being Fiji Day, celebrating Fiji's independence. This is celebrated in October with a week of religious and cultural ceremonies.
Languages
Fijian is the native language of roughly 450,000 Fijians, and other languages spoken on the island include English and Fiji Hindi.
Parent Info
'If only every student could do this. It changes your life in all the right ways,' says Chris Heritage, parent of Luke Heritage, one of our teen volunteers who has participated on two GVI programs, one in Costa Rica and another in South Africa.
We are a parent-run organisation that is incredibly serious about health and safety, and increasing the impact, as well as the long-term career benefits of our programs. Our programs help young people develop the skills to select a career path that is personally fulfilling, and live a life aligned to the well-being of our planet and the global community.
Ken and Linda Jeffrey, whose son Sam volunteered with GVI in Thailand, talk about how the experience affected Sam. He also went on to volunteer with GVI again in South Africa. 'I know it sounds like a cliche but in a sense, he did go away as a boy and he came back as a young man. Both of us could recommend GVI without any hesitation to any other parent thinking about exploring an opportunity for their children to explore the world and to see different parts of it.'
Parent Info Pack
Download the Parent Pack and learn more about:
Our staff: All our projects are run by staff, selected, vetted, trained, and managed by our central office.
Health and safety: Our safety practices include a child and vulnerable adult protection policy and high participant ratios.
Staying in touch: See what's happening on base, by following a hub's dedicated Facebook page.
Free parent consultations: We would love to talk to you about exciting opportunities available for your child.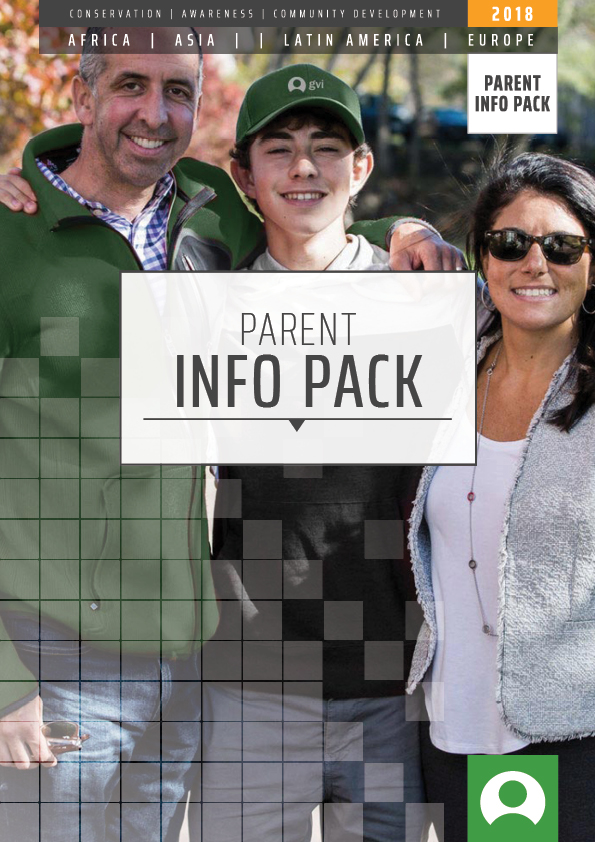 Support & Safety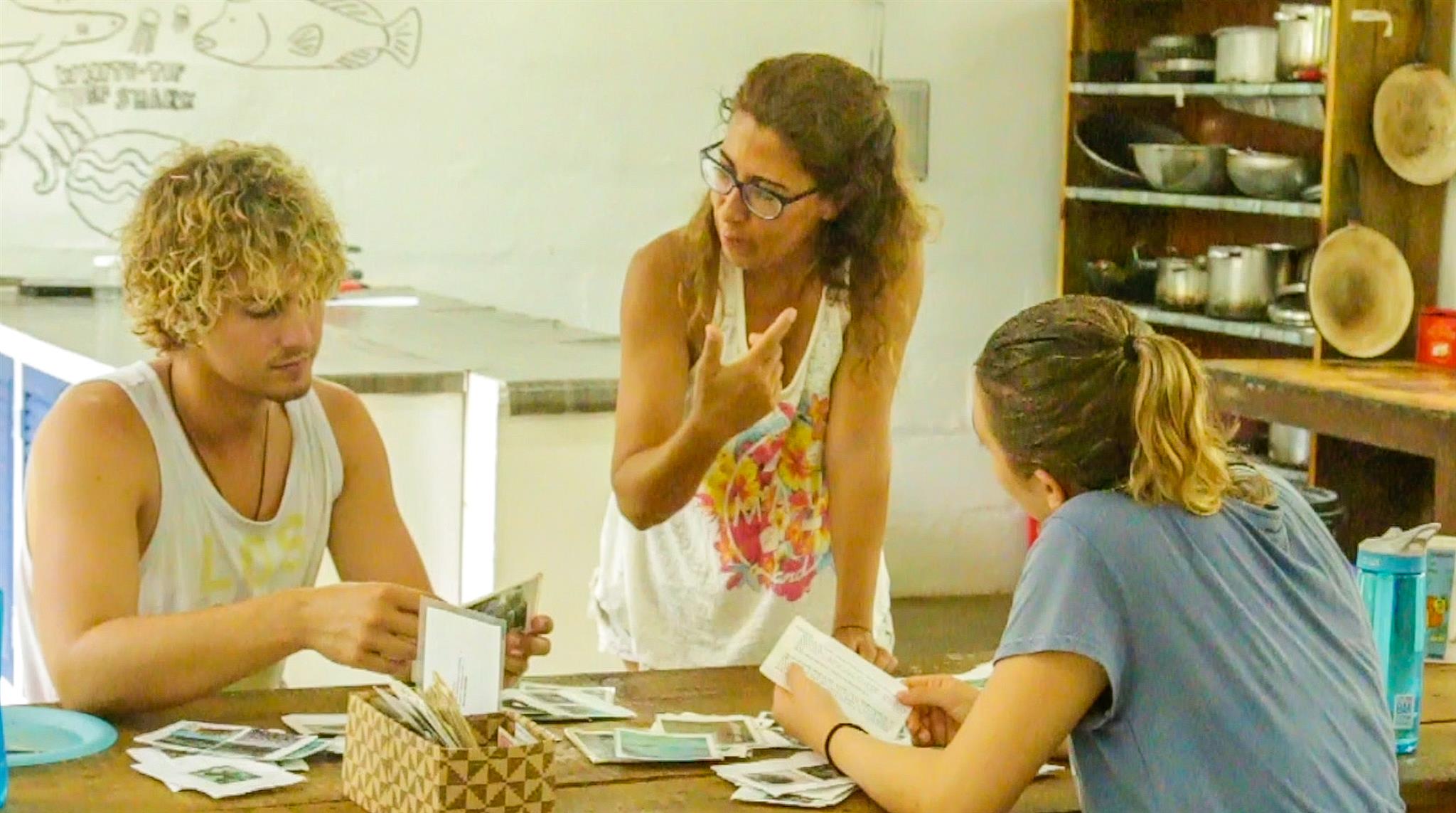 We won't sugarcoat it — traveling abroad is usually a complex process that carries an element of risk. But this is exactly why we're passionate about providing extensive support throughout the process as well as the highest safety standards during the in-country phase. We believe that volunteering abroad should not only be impactful, but an enjoyable experience that carries as little risk as possible. This is exactly how we've been able to maintain our reputation as the most highly respected volunteering organisations in the sector over the past two decades.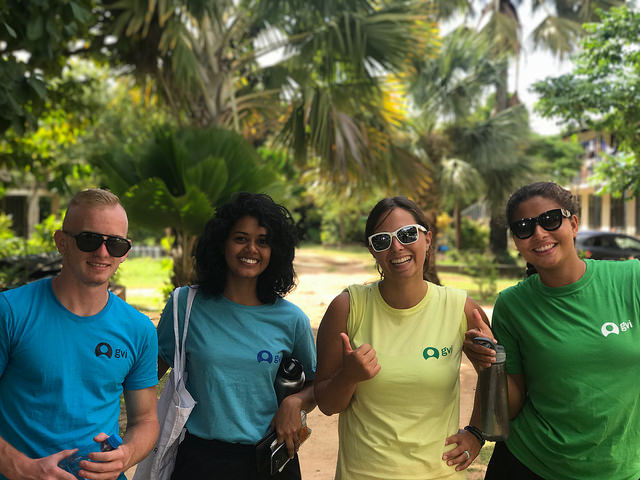 Support
Once a participant books, they will be assigned a personal support coordinator who will oversee their pre-departure journey. The support coordinator helps to bridge the gap between program enrolment and arrival at one of our field bases. Your personal support coordinator will ensure that you are provided with all the necessary information required to apply for visas, background checks, and any other documentation.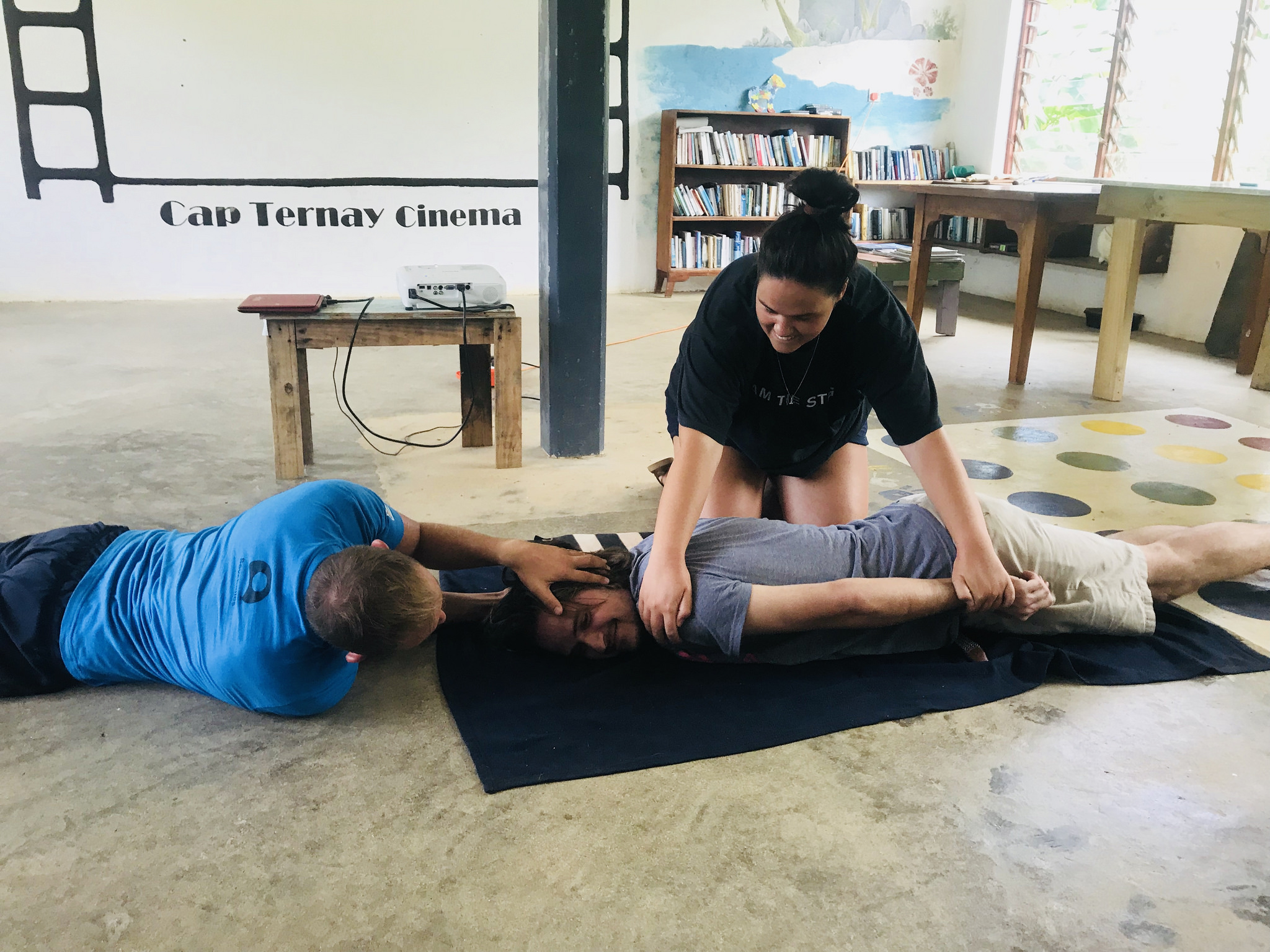 Safety
Upon arrival at the airport, participants will be greeted by a GVI staff member. All GVI staff are our own and all our programs around the world are run by our staff. All GVI field staff are background checked, Emergency First Response and safety trained. The minimum staff to participant ratio on GVI's programs is one to six, although on several bases we have a ratio of one to three. When finishing the experience, participants will provide feedback on all aspects of their program.
Health & Safety Case Studies
Contact Us
GVI
Level 5, 11 Queens Road, Melbourne, VIC, 3000, Australia
Learning Provider Number (LPN): 10002692
Centre Number: 17067