VOLUNTEER PROJECTS IN INDIA
Experience India's intoxicating cultural diversity and breathtaking natural landscapes by joining one of our volunteer projects in India. We offer a range of volunteering opportunities in two Indian locations where we focus on United Nations Sustainable Development Goals, #3, Good Health And Wellbeing, #4, Quality Education, #5, Gender Equality, #8, Decent Work And Economic Growth, and, #15, Life On Land, as our main project aims.
As a global volunteer organization, we pride ourselves on partnering with local NGOs and public institutions in India to ensure that volunteers are providing for the specific needs in the region and that they are fully supported by our in-country staff throughout their journey. This is why we are confident in stating that we run some of the best volunteer programs both around the world and in India. Whichever volunteer job you sign up for with GVI, you can be confident that you are working toward lasting positive impact.
Many volunteers make the trip to India to experience some of the many tourist sites this popular destination has to offer. GVI participants on a volunteer holiday to India can use the weekends to explore the city or town where they are stationed or even join other volunteers to tour the rest of the country.
All our volunteer programs are designed specifically for students of college age, although we also offer a specially designed community service program for high school teens that includes a travel and adventure component. Programs run throughout the year, but many students select to complete volunteer work during their spring or summer breaks. Others choose to work with us during their gap year. Young professionals on a career break or retirees are also welcome.
No matter where you are at in your academic or professional journey, if you are trying to find out how to volunteer in India, simply submit an application form requesting to join one of our projects and we will be in touch shortly.
VOLUNTEER PROGRAMS IN INDIA
We offer both community development and conservation volunteer opportunities in two unique Indian destinations, Cochin in the Kerala province, and a rural village in Madhya Pradesh, the heart of India.
We're excited to announce our very first conservation program in India, a tiger forest habitat restoration project in the forested heartland of India, Madhya Pradesh. Volunteers on this project will stay in a small village of about thirty families about five hours from the city of Bhopal. The village is situated on the edge of a so-called 'buffer zone', an area around a tiger reserve where local conservation work is ensuring that the habitat is restored to its natural state. Conservation volunteers will work in this buffer zone, helping to conduct surveys of vulnerable and threatened species like the Indian skimmer and rusty spotted cat. In the process, you are also likely to spot other kinds of local wildlife such as peacocks, sloth bears, and the Indian dhole, a type of wild dog. Volunteers will also work with local people in the village to increase their ability to take advantage of growing ecotourism in the area. This might involve teaching English language skills or working with local entrepreneurs to develop homestays or a tour guide service.
As a GVI healthcare volunteer in India, you will be working with specialist educators and therapists at a local special needs school and at a community center for persons with disabilities in Cochin, Kerala. You will help both children and adults master self-care practices and vocational techniques that will help them with living more independently. You might also help with conducting WASH (water, sanitation, and hygiene) workshops to ensure better preventative health awareness in the communities in and around Cochin. No previous medical or healthcare experience is required and all training will be provided before joining the project. This is the perfect project for someone who is both interested in South Indian culture and is considering a career either in occupational therapy or public health.
GVI volunteers working to improve gender equality in India will be stationed in the port city of Cochin, Kerala. Volunteers will not only work with women, but also girls, boys, and men, in an attempt to tackle gender inequality holistically. Volunteers might help girls improve their literacy skills and provide other kinds of educational support or they help local women improve their knowledge of best business practices for running a small handicraft business as well as healthcare practices for women and infants. They might also conduct workshops with boys and men to discuss topics like gender norms. Whatever the exact nature of the project, your aim will be to ensure that girls and women are more aware of their own potential and have access to more opportunities than before. This is an excellent program for gender studies students as well as those looking to explore fields like education, public health, social work, law or even business.
International volunteers partnering with GVI on education projects in India will work in the city of Cochin, Kerala. Improving the conversational and academic English language skills of students in preschool up until sixth Grade is the main focus of these projects. Volunteers will help teach in a classroom setting at a local care center or tutor students who require additional support in one-on-one classes. In many of the community where you will work, there is a lot of pressure for older students to leave school in order to start earning a living. Part of your role will also be to create awareness around the opportunities that further education offers. Participants on the project can either choose a volunteer placement of two weeks or more or a teaching internship starting at twenty-four weeks. There is also the opportunity to contribute to the community by working on renovation and construction projects at local schools and other community facilities.
OUR LOCATIONS IN INDIA
We run all our own our sustainable development projects around the world and our projects in India are no except. Currently, we have two bases in India, Cochin in the Kerala province and a small village in the Madhya Pradesh province, where EFR-trained staff are stationed full-time. Cochin is the base for our community development projects and Madhya Pradesh is the location of our first conservation project in India.
Cochin is a vibrant coastal city in the South of India. Shaped by diverse influences over many centuries, Cochin is cultural mecca perched on the edge of the Arabian sea. Learn more about the history of the city by visiting the old city of Fort Kochi where you can visit a Kathakali dance performance, try your hand at using the iconic Chinese fishing nets, or explore a Jain temple, a Portuguese capel and a Jewish synagogue all in one district. You can also venture further out to explore the famously gorgeous Keralan landscape, by taking a riverboat cruise into Periyar National Park.
The Central Indian province of Madhya Pradesh is perhaps best known for being the epitome of the typical Indian forest landscape. Featuring the most densely forested landscape of any Indian province, this is the perfect destination to spot Indian wildlife, like tigers, leopards, peacock and sloth bear. The area is also known for its cultural history stretching far back into the prehistoric era. Bhimbetka caves, about an hour away from Bhopal, feature rock paintings that are the earliest evidence of human habitation on the Indian subcontinent. Other beautiful and fascinating historical sites include the ornate Jain and Hindu temples of Khajuraho and the giant Buddhist stupa of Sanchi.
Download our program brochures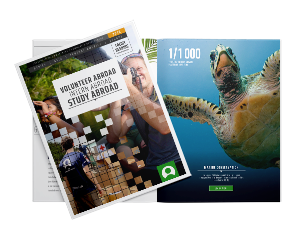 OUR VIDEOS & TESTIMONIALS
There has recently been a surge in conversations regarding domestic abuse and the collective need in society to discuss women's [...]
Volunteer with GVI in India! Make a difference and open your eyes to this developing country filled with rich culture, traditions [...]