Program Details
Code: GHTM0491N
Short Term Community Development Internship In Ghana
Add to your professional international experience on a community development internship in Ghana.
Our Impact
Location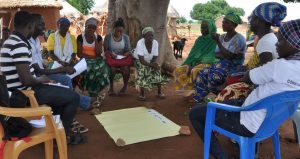 Volunteer in Cape Coast
Journey to equatorial Ghana, known for its coastal landscape of unspoiled, palm-lined beaches, magnificent rivers surrounded by fecund tropical forests teeming with butterfly life, and rich cultural heritage stretching far into the early medieval ages, to support communities in their efforts to improve the quality of basic education offered at schools, increase awareness around how to prevent common illnesses and provide women with the support they need to become more financially independent and socially empowered.
Program Information
GVI's short term community development internships are perfect for gender studies majors, budding lawyers, social workers, psychologists, educators, career breakers or anyone wanting to make a sustainable difference abroad. Expect to be pushed outside your comfort zones, to learn new skills, and make use of your theoretical, classroom based training in a new way.
Overview
GVI interns working on our community development programs in Ghana will partner with local partner organisations in the area. The particular issues they will be tackling will be decided by these local organisations but interns can expect to get involved in projects addressing issues related to education, healthcare, gender equality or construction projects. Our community development internships aim to contribute to a selection of the UN Sustainable Development Goals, including Goal #4 - Quality Education, #5 -Gender Equality and #10 – Reduced Inequalities.
Join GVI's short term community development internships starting in 2018 to provide support to organisations working to contribute to community development in the Greater Accra region.
All GVI internships are geared at developing your leadership skills, allowing you to develop a variety of key soft and hard skills that will put you a step ahead the rest of the pack. GVI have been running community development, education, and conservation projects since 1997 and our highly experienced field staff will help you gain and improve vital skill sets to improve your future job prospects.
Highlights:
- Contribute towards meaningful and sustainable community development initiatives
- Develop and enhance your leadership skills
- Gain hands-on, international experience to boost your resume
- Make a sustainable difference in the lives of the local community, and contribute to the United Nations Sustainable Goals
- Meet participants from across the world, developing your cross cultural skills
- Explore Ghana, and be immersed in the Ghanaian culture
Testimonial
I interned in Gordon's Bay, South Africa, on the Community Development Project and it was the most eye-opening, intense and amazing time of my life! It may sound an exaggeration…but believe me, it's not! The people you meet, the children you teach, the places you visit, the friendships you build…everything together makes this experience truly inspiring. It feels great talking and spreading the word about such a reliable organisation and, above all, the great experience I had!!
- Federica Brusca (Italy)
Program Details
GVI Live
25 Sep
A blog with some good...
A blog with some good career advice and a gratuitous travel picture. For when you've exhausted the 9gag feed, LADBible hasn't [...]
19 Sep
https://t.co/Hyi97KjBqD
Posts from the Field
Whether you want to tick "explore a rainforest" off your bucket list, learn how to wrap a traditional Ghanaian head scarf, [...]
GVI Blog
Deciding to volunteer and travel to a new country for the first time is an incredibly exciting decision. However, as we all [...]
Life on the Internship
During your time on this internship, you will be living in Accra, Ghana's capital city. Upon arrival, you will receive an introductory orientation by the staff covering health and safety, a basic local language lesson, a tour of the town, an introduction to our local partners and initial training to prepare you as much as possible for work on the project.

We will develop our projects according to the needs of our local partners on the ground and each projects will be created to contribute to one, or more of the UN Sustainable Development Goals.

A typical day on this internship will include teaching English or Maths, working on construction projects or conducting awareness workshops in the form of discussion groups covering topics like healthcare, gender equality, or professional skills development. The skills you gain from this internship really set you apart, and will boost your resume - specifically being able to add intercultural competency, advanced communication skills and the ability to lead a team!

From Monday to Friday you will work on the internship projects, based around planning and delivering educational classroom lessons. Weekends are yours to explore the surrounding area or simply relax at base with your fellow volunteers.

You will be staying in shared dormitory style accommodation with your fellow participants, with running water, electricity and flushing toilets. You will enjoy daily communal meals with your fellow volunteers.
Project Details
Projects are varied and will be decided by assesing the needs on the ground, at the time you are on the ground. Typical projects that we will get involved in include teaching inititatives, workshops on professional development, healthcare, gender equality or construction projects.

How this program makes a difference:

GVI participant help faciltate impactful discussions and workshops to equip community members with the necessary tools and skills to overcome the challenges they face. Each of our internships collaborate with the efforts of local partners to ensure the sustainabilbity of the work being done.

Ghana's short, mid, and long-term objectives:

All of our programs have short, mid and long-term objectives that fit with the United Nations Sustainable Development Goals. This enables us to report on our collaborative impact across the world in a streamlined manner, measuring which UN SDGs we are making a substantial contribution to. Furthermore, this will help our local partners and communities measure and visualize their contribution to the UN SDGs.

Upon arrival to base, you will be educated about the history of the UN SDGs. You will learn about the specific goals of your location, the long-, mid- and short-term objectives, and also clarification of how your personal, shorter-term involvement contributes to these goals on a global level.

Our aim is to educate you on local and global issues, so that you continue to act as active global citizens after your program, helping to fulfil our mission of building a global network of people united by their passion to make a difference.
What's Included
24-hour emergency phone

24-hour in-country support

Access to Alumni Services and Discounts

Airport pick-up (unless otherwise stated)

All necessary project equipment and materials

All necessary project training by experienced staff

Location orientation

Long term experienced staff

Meals while on project (except on work placements for long term internships)

Safe and basic accommodations (usually shared)

Welcome meeting
What's Not Included
Additional drinks and gratuities

Extra local excursions

Flights

International and domestic airport taxes

Medical and travel insurance

Personal kit

Police or background check (where necessary)

Visa costs
Exploration
Volunteering with GVI not only allows you to make a sustainable difference globally, but it also offers wonderful opportunities to travel in the local area in your down time or further afield either before or after your program. Many decide to travel after volunteering, solidifying the lifetime friendships established on program.

We checked in with our long term field staff for advice and travel tips. We have put together the following information on trips and travel options in Ghana!

Optional Side Trips

On your weekends or while off project, the following short trips are popular and should definitely be checked out!
• Visit historic Jamestown and discover all the beautifully dishevelled colonial buildings, clapboard houses and corrugated iron shacks.
• Head over to the Makola market for a true African market experience. Be sure to try out some of the local cuisine that is sold here by the local vendors.
• Take a trip to the National Museum for insight into the local cultural or head to the ANO Centre for Cultural Research and check out the Ghanian art!
• Alternatively, for a relaxing day out, be sure to check out Bojo Beach just west of the city of Accra.

Further Travelling Opportunities

If you have the time and budget, there are a number of opportunities for exploring more of Ghana. These could include taking a tour of Cape Coast's historic whitewashed castle, a former slave-holding site. For the nature lovers there's Mole National Park, home to about 90 species of mammals, including African elephants. After going on safari you might want to head to Fort San Antonio for a guided tour of this historical monument and experience the amazing views of the cosatline from the top of the fort. The travel opportunities in Ghana are endless!
The Team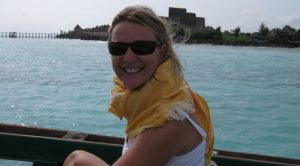 Shayle Havemann
Director of Programs
Meet Shayle, our innovative and driven director for all our projects around the world. She has two honours degrees, one in Industrial and Organisational Psycology, and another in Developmental and Education Psycology. Shayle also has over 10 years experience in setting up, managing and evaluating environmental and community programs across Africa, Asia, Europe and Latin America.

She is well-practiced in facilitating meaningful and effective intercultural engagement and this makes her the perfect person for overseeing our operations in the multicultural country of South Africa.

When not attending meetings or planning her next endeavour, Shayle can be found spending time with her family or taking part in some or other exciting outdoors activity!
Volunteers who went on this program also considered these
Immerse yourself in the local culture and contribute to valuable community development[...]
Volunteer with Children
Teaching
Construction
Live in the Caribbean and collaborate with Save the Children on this short term community[...]
Teaching
Volunteer with Children
Explore the tropical country of Fiji on a hands-on short-term teaching internship
Contact Us
Global Vision International
Level 5, 11 Queens Road, Melbourne, VIC, 3000, Australia
Learning Provider Number (LPN): 10002692
Centre Number: 17067

Download a Brochure