Christmas Volunteering Ideas | 2017 & 2018
By Jana Jansen van Vuuren
11 months ago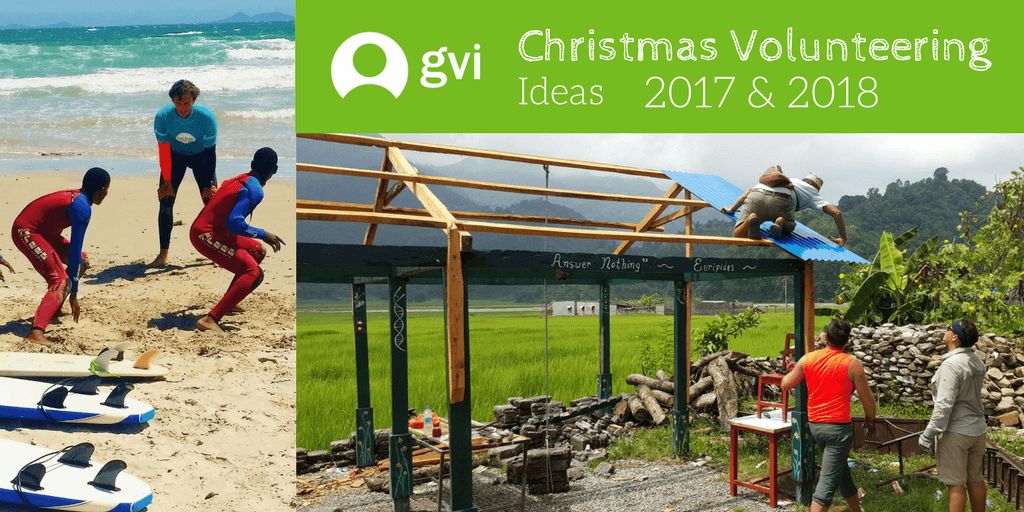 All across the Western world, thousands of people head to homeless shelters and food kitchens to volunteer during the holiday season. Christmas seems to bring out the best in us, inspiring donations of both time and money. It makes sense. The Christmas spirit is all about bringing peace and joy to the world and most schools, as well as businesses, close at some point between Christmas and New Year, eliminating one of the most common reasons well-meaning people say they have not yet volunteered  — they lack the time to do so. 
But all this do-goodery around a select date has its downside. In recent years, many charitable organizations have been turning prospective volunteers away due to a surplus of volunteer requests in December. They recommend either donating so that they'll have the funds to tide them over during leaner months or volunteering at some other time. While we would certainly recommend both donating and offering your time at all times, there are many benefits to volunteering over Christmas that we wouldn't like anyone to miss out on. Firstly, as we've already mentioned, many people would not have the available free time to volunteer if it were not for the holiday season. Secondly, even if they had that time as an individual, the entire family might not be able to volunteer together any other time of year due to conflicting school and work schedules.
Finally, many people find that the holiday season puts a great strain on their mental health. They find it taxing because of family commitments, longing for loved ones who have either passed away or been alienated due to personality conflicts and irreconcilable differences. Volunteering during the holiday season not only brings families together to create a better world but also helps to uplift those individuals that find the season incredibly taxing. Volunteering abroad is the perfect way to still donate your time and energy to those who are less fortunate during the holiday season without overburdening local charities. While homeless shelters in your town or city might have plenty of extra hands to spare on Christmas Day, a relief settlement in Kerala, India, might not.
This is why we ensure that all, except two, of our community development projects around the world run throughout December and over Christmastime, to connect volunteers from around the world to the people and causes that need them most.
We have plenty of Christmas volunteering opportunities, from more traditional holiday volunteering activities like supporting facilities that care for those who are homeless and struggling to cope with disabilities or mental illness, to less conventional ways to help out like childcare, teaching, construction, healthcare and gender equality programs.

You and your family can choose to volunteer in culturally unique destinations like South Africa, Mexico, India, Nepal and Laos and the best part is that all these places are warm, sunny and relatively dry during December.
So if you are still asking questions like 'Where can I volunteer for the holidays?' Or 'Where can my family volunteer for the holidays?' we have the perfect solution. Select a GVI program and book your trip. Minimum stay on all our projects is two weeks and costs range between $1520  and $2328. Read on for some great Christmas volunteering ideas.
Volunteer In South Africa Over Christmas
Projects To Work On:
Average Cost For Two Weeks: $1986.
Weather: Sunny, warm (25°C/77°F), and dry.
Christmas time is summer holiday season in South Africa. Many locals head to the beach during December to swim or surf in the warm waters of the Indian Ocean or the refreshing ones of the Atlantic. You'll also find many South Africans spending the long summer afternoons enjoying the traditional barbeque meal, known as a 'braai', with their extended families.
South Africa has absorbed a diversity of colonial influences over its short history, including Dutch, Portuguese, French, German and British settlements. This means that the traditional European Christmas tradition is well-established here and Christmas is celebrated with great enthusiasm by locals. Homes are decorated with faux Christmas trees under which presents are laid out. Many South Africans will celebrate Christmas Eve or Christmas Day with a big family meal.
Our community development programs in South Africa are based in Gordon's Bay, a seaside town about a half an hour's drive from central Cape Town. Here we work at a nearby community center where we run computer and interview skills classes with local women. Our team also volunteers at several pre-primary and primary education facilities in the area where we support local teachers with language, maths, sports, health and well-being education. Although December is summer holiday season for South African students we run a range of summer schools and enrichment programs throughout the holiday months.

South Africa is a country of 11 official languages which means that visitors are sometimes confused about how to give a traditional holiday greeting. A friendly 'Merry Christmas' will often be sufficient. In fact, English is the most widely spoken language In Cape Town, followed by Afrikaans, in which 'Merry Christmas' translates to'Geseënde Kersfees'. You can also try out 'Merry Christmas' in Zulu, 'Jabulela Ukhisimusi', or Xhosa, 'Krismesi emnandi', the two most commonly spoken languages throughout the country.  
Further Reading: 10 Things You Need to Do in Cape Town
Holiday Volunteering Opportunities In Mexico
Projects To Work On:
Average Cost For Two Weeks: $1891.
Weather: Warm (25°C/75°F), with some light showers.
December is winter in Mexico, but that doesn't mean snow shovels or getting wrapped up in Christmas-themed sweaters. Mildly warm weather is the norm in Mexico during December, which is the perfect climate for holiday festivities. A primarily Catholic nation, Christmas is celebrated in full force throughout Mexico, although festivities begin little earlier than in Anglophone countries. The most popular Mexican Christmas or 'Navidad' tradition is 'Posadas', a nine-day celebration which starts on the 16th of December. 'Posadas' means 'inn' or 'shelter' and the celebration enacts Mary and Joseph's search for shelter. During Posadas, children walk from house to house singing Christmas carols, known in Mexico as 'villancicos', and stop at houses singing the traditional Las Posadas song to ask homeowners to let them in. On Christmas Eve, 'Noche Buena', the 25th of December, the children are invited in for a family dinner at the end of which they will get to bash a star-shaped piñata filled with candy. In Mexico, nativity scenes or 'nacimientos' are more common than Christmas trees and gifts are not exchanged at Christmas time, but are rather reserved for the 6th of January, or 'El Dia De Los Reyes', The Day of the Three Kings, when they are delivered by The Baby Jesus, 'El Niñito Dios'. Another important Mexican celebration in December is the day of Our Lady of Guadalupe, the 12th of December, an important national symbol in Mexico. In most Mexican cities there are processions, with singing, incense, and flowers, down the main streets to a cathedral or chapel. 
Our Mexican community development projects are based in Playa Del Carmen a city on the coast of the Caribbean sea, where we provide support to a children's center run by Save The Children as well as a special needs facility known as the Integral Care Centre. Volunteers joining our childcare projects help to run educational workshops as well as carrying out cleaning and maintenance work at the center. Volunteers looking to work on healthcare initiatives in Mexico will help staff at the Integral Care Centre to conduct daily therapy sessions and lessons for adults and children with special needs.  
While in Mexico why not enjoy a popular Mexican Christmas delicacy called 'buñuelos', a fried fritter, covered in sugar or syrup, often flavored with cinnamon. You can buy them just about anywhere on the side of the road during Christmastime and it's traditional to make a wish and smash the plate after you've finished the last crumb. Many people ask for a good year ahead as well as healthy, happy families and communities. By partnering with GVI, this can be more than a wish, you can personally help to build stronger communities in Mexico. 
Further Reading: 6 Reasons You Need To Volunteer Abroad in Mexico
Christmas Volunteering In India 
Projects To Work On:
Average Cost For One To Two Weeks: $1520 – $1615.
Weather: Hot (27°C/80°F) and relatively dry.
Our community development projects in India are based in Kochi, a port city on the Western Coast of South India, a city famous for being the at the center of the spice trade for many centuries. December is the end of the monsoon season in Kerala, where Kochi is based, as well as the start of the winter season. Kochi is a cosmopolitan city, which means that traditions are diverse. The majority of the population in India is Hindu, yet, Kerala has a large Christian population. The means that Christmas celebrations are rather more popular here than in other locations in India. That being said, the real event in Kochi over December is the Cochin Carnival. Historically a Portuguese celebration, the events at the carnival show that Kerala is truly a melting pot of many different cultures. Competitions like the traditional boat race and other local sports like kabaddi and kuttiyum kolum are a popular attraction. Historical buildings are adorned with white paper and flags to commemorate the event. 
As a GVI childcare volunteer in India, you will focus on providing support to children of low-income families at a local care center. You can also volunteer on our sports program, where you will help local teachers with supervising sporting activities. As a sports program volunteer, you could also be asked to help guide sports lessons at a special needs facility. Healthcare volunteers in Kochi split their time between a special needs school and a relief settlement, helping persons affected by disabilities, mental illness and homeless improve their coping abilities and learn new skills. If you have chosen to volunteer on our construction program in India you will be tasked with building and repairing schools and playgrounds as well as community centers and homes in the area. This also sometimes includes some landscaping work. GVI volunteers on the female empowerment project in Kerala help groups like 'Women of Kerala' and 'Girl's Voice', to create awareness around the importance of equal education, income opportunities and access to healthcare for every person in Kerala, no matter their gender.
While in Kochi, you will witness a Christmas tradition unique to Kerala. During this time homes and streets are decorated with bamboo and paper stars to represent the star of Bethlehem. The stars are lit in the days leading up to Christmas and represent hope for a better future. By lending a hand to disadvantaged communities in Kochi you can help to translate some of the local community's faith in a better world into a here-and-now reality. 
Further Reading: 7 Reasons To Volunteer In India
Volunteer In Nepal During Christmas
Projects To Work On:
Average Cost for One To Two Weeks: $1520 – $1615.
Weather: Cool (19°C/66°F) but sunny.
Our community development projects in Nepal are set in Pokhara, a city right at the foot of the Annapurna mountain range which features some of the highest mountain peaks in the world. The tranquil Phewa Lake is located nearby in the center of which you can find a tiny island on which a small, but culturally significant temple, the Tal Barahi, is set.
Nepal is a primarily Hindu state which means that Christmas is not a major festival. December is rice harvesting season and the big event in Pokhara which commemorates the harvest season is the festival celebrating Annapurna, the goddess of food. It commences on the 28th of December and is soon followed by the Phewa Festival on the 1st of January. Both festivals take place on the edge of Phewa lake in an area known as Basundhara Park which borders the Phewa lake. This is a great time to visit Nepal to truly experience all the cultural delights the region has to offer. The lakeside streets are lined with dancers and musicians as well as food and craft stalls, filling the air with delicious smells and Nepali folk music. 
Nepal is still recovering from the 2015 earthquake which destroyed many monuments of national and spiritual significance as well as essential infrastructures. Although it has been two years since the earthquake hit, there is still a lot of renovation work that needs to be done and you can help. We focus on assisting primarily with educational facility repairs and construction in order to advance the objectives set under the United Nations Sustainable Development Goal Number 4, Quality Education.
As a GVI volunteer in Nepal, you could also teach English and provide child development support to local staff at a care centre or children's home. You could also help with creating more awareness around health and well-being through conducting preventative healthcare workshops. Topics include hygiene, women's health, and first aid. Volunteering on some of our female empowerment initiatives in Nepal is also an option. On this project, you will help provide Nepali women with the support they need to empower themselves socially and economically. 
If, after working on one or more of these projects, and exploring the cultural delights of the lakeside market in your free time, you and your family still crave the sight of Christmas snow, why not trek to Everest base camp as part of a weekend trip. There are many trekking tour operators in Pokhara. While in Nepal during December, you will learn to say 'Namaste' rather 'Merry Christmas'. 'Namaste' means 'I salute the god within you' and we cannot think of a better way to honor the spirit of the festive season than by acknowledging the value of each and every human life as well as their unique experience.
Further Reading: 6 Reasons To Volunteer In Nepal
Christmas Volunteering In Laos 
Projects To Work On:
Average Costs for Two To Four Weeks: $1805 – $2328.
Weather: Warm (25°C/77°F), sunny and lush.
December is an ideal month to visit Laos. Temperatures are milder than they are all year and it's the end of the monsoon season. This means that the majestic Mekong river is as full as it will ever be, yet there is very little rainfall.  The Laos population is primarily Theravada Buddhist. This means that Christmas is not widely celebrated.December is a very sedate time of year, even for Laos, which is famed for its laidback atmosphere and untouched natural beauty. Life goes on as usual, with the days being marked by Buddhist rituals carried out at a gentle, languid pace. A celebration which is quite popular in Laos during December is not a religious festival but a national one. Lao National Day is observed on the 2nd of December and commemorates the day Lao achieved independence in 1975. The day is celebrated with a parade of national flags. The other major celebration in Laos during late December is the Hmong New Year. While most of the population of Laos is made up of an ethnic group known as the 'Lao' people there are many other ethnic groups in the region, one of which is the Hmong group. This group celebrates their folk traditions near the beginning of January.
Our community development projects in Laos are based in Luang Prabang, named a UNESCO World Heritage Site due to its unique and incredibly well-preserved architecture. As a volunteer in Laos, you can work with Buddhist novice monks or lay students to improve their English and Mathematics skills or provide girls and women in Laos with access to better education. 
Although the population of Laos doesn't celebrate Christmas, they do ascribe to what many Westerners would call 'festive cheer' all year around. They are committed to a philosophy of living identified by the concept of 'muan', meaning cheerfulness and kindness. A visit to Laos during December will teach you that while our cultures and specific festivities may differ, common human values like a commitment to personal contentment and nonviolence is universally treasured.
Further Reading: 10 Reasons To Volunteer In Laos