Program Details
Code: GRMV0508F
Under 18's Greece Marine Conservation Awareness
Conserve turtles on this under 18 volunteer project in historic Greece
Program Information
Explore historic Greece when you join a team of international volunteers conserving endangered loggerhead turtles which nest on the white sand beaches of Giannitsochori. Record nesting activity and protect hatchlings from predators as they make their first journey to the ocean, making a real difference to the conservation of the population.
United Nations Sustainable Development Goals
Overview
This project has been specially designed for those looking to volunteer, but are aged between 15 and 17 years old. Throughout this project, our younger volunteers will have greater supervision, training, and world-class leaders in the field who have been chosen for their mix of relevant experience and ability to mentor and inspire young people.
The project
Based in Giannitsochori, you will live and volunteer with a team of international volunteers to conserve and protect one of the most important loggerhead turtle nesting areas in Greece.
The team will engage in daily morning and night surveys (depending on nesting activity) to record nesting activity and protect turtle nests against predation by mammals and inundation by sea water. Volunteers will also provide important conservation information to overseas visitors and the local community.
You will also have a weekend to enjoy some cultural activities in the surrounding area, a beautiful and fascinating region of Greece.
Highlights include...
Hands-on work with one of the most endangered species in the Mediterranean; exploring nearby nature reserves and admiring the local architecture; seeing turtles lay their eggs and watching the hatchlings head for the sea; experiencing Greek culture first hand in a beautiful area which you can explore in your free time; taking your first steps towards your career in conservation and making a lasting contribution to the preservation of endangered turtles.
Program Details
GVI Live
20 Sep
"You're never too old,...
"You're never too old, too wacky, too wild, to pick up a book and read to a child." - Dr Seuss Learn a little about the [...]
22 Sep
The world will know Peace...
The world will know Peace One Day. There are thousands of humans out there, working to educate, to contribute, to solve. [...]
Posts from the Field
GVI Blog
Project Life
During your time on the project, your work will be extremely varied. Volunteers will rotate around the different roles of turtle patrol, camp duty, bamboo harvesting (used to protect the nests) and an environmental education
programme
for the locals and tourists.
Volunteers should expect the days to be long, as well as hot, with plenty of walking (at least 5km) while taking part in the various surveys.
Your accomodation will be quite rustic, with amazing views to wake up to each morning. Volunteers will be camped right next to the beach, at a campsite that has a number of facilities such as a mini-market and a restaurant.
In between your shifts, you will have plenty of time to relax on the sandy white beaches, explore the nearby area with your fellow volunteers or simply relax at the campsite and take in all the beautiful natural scenery.
Project Details
GVI works in collabouration with a Greek organisation that has been conducting research in this area since 1983, making it one of the oldest conservation projects in the Mediterranean.

Key volunteer tasks may include; patrolling the beach to locate new tracks and nests; recording data and measurements; installing protective nest grids; nest relocation (if required); nest excavation (seasonal); bamboo harvesting - assembling nest grids; manning beach kiosk - educating public about the project; public awareness presentations - conducted at campsites/hotels in the local area.

Data collected not only contributes to coastal management plans in Greece but also towards the international strategy for the conservation of sea turtles.

How this project makes a difference

Protecting nests against predation by mammals and/or inundation by sea water ensures that as many hatchlings as possible are added to the population each year, while public awareness activities help people adopt friendlier attitudes towards the natural environment and possibly reduce their environmental footprint in the area.
What's Included
24-hour emergency phone

24-hour in-country support

Access to Alumni Services and Discounts

Airport pick-up (unless otherwise stated)

All necessary project equipment and materials

All necessary project training by experienced staff

Cultural weekend

Dedicated project leaders

Extensive pre-departure service including packing lists, fundraising advice, advice on travel arrangements, a thorough pre-departure orientationAdventure and cultural activities

Location orientation

Long term experienced staff

Meals while on project (except on work placements for long term internships)

Safe and basic accommodations (usually shared)

Welcome meeting
What's Not Included
Additional drinks and gratuities

Extra local excursions

Flights

International and domestic airport taxes

Medical and travel insurance

Personal kit

Police or background check (where necessary)

Visa costs
Adventure
Although this trip follows a structured itinerary, don't think you won't be seeing and doing some amazing things! You'll embark on a cultural weekend side trip of awesomeness to discover all the amazing sights the region has to offer!
The Team
Helena Zepetes
Field Staff
Meet Helena, a GVI field staff member here in Greece! Helena has always had a love for the ocean and travelling since she was young. She first started off working with marine life in Greece where she worked with Loggerhead Sea Turtles. This led to her to work for GVI Greece and then in Jalova, Costa Rica where she worked with Green turtles and a wider variety of wildlife. There she explored her love for all life especially the Aracaris and Toucans, yet her heart still lies with the ocean.

This has recently lead to her becoming qualified as a Certified PADI Open Water Diver which will enable her to work alongside more marine life and help her improve her work as a keen marine conservationist. She wishes to expand her knowledge in the future and to carry on exploring the world one country at a time. She is still waiting to cross off swimming with Whale Sharks and Manta rays off her bucket list.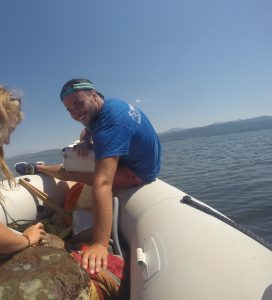 Sebastian Hoefer
Field Staff
Meet Sebastian, our enthusiastic nature-lover here in Greece. Sebastian studied biology in Berlin and is passionate about wildlife and conservation. He is part of a big wildlife conservation program in Berlin and coordinates his own project at the university. A few years ago he worked on similar projects at the very same beach where our projects are based now, so he knows the area and the projects quite well.

The travel bug has really bitten him and he's always planning his next trip. After going around Australia in a Land cruiser for 18 months he went on to travel all over Europe in a Volkswagen T3 for 15 months.  Steve Irwin was his childhood hero, "I remember looking up words in the dictionary when I was a kid to be able to ask him personally if I could help him with his amazing mission of protecting wildlife". This is still what Sebastian wants to do  – protect and give back to nature and all of it's amazing creatures!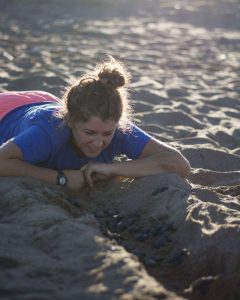 Alyssa Kirkham
Field Staff
Meet Alyssa, also known as "Miz or Missouri", one of our very enthusiastic staff for this upcoming season here in Greece. Miz has always had a passion for wildlife and sharing her knowledge with the world. Her entire childhood was filled with nursing orphaned rabbits, and opossums back to good health and releasing them back into the wild.

She aspires one day to open her own rehabilitation center in South-west Missouri. Miz has worked on a number of GVI projects including Costa Rica, India, and Greece. She has had the opportunity to work with 5 of the 7 species of sea turtles and hopes to get the opportunity to work with the remaining two in the near future!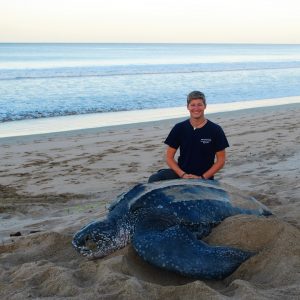 Quintin Bergman
Field Staff
Meet Quintin, he is part of our field staff here in Greece! Quintin loves to travel and study animals, after graduating with a bachelors in Wildlife Conservation he went to work on a Leatherback monitoring project on the Pacific Coast of Costa Rica.

If not working, you can find him in or around the water and taking photos of any living creature. Quintin gets very excited when searching for personal new species of birds, reptiles, amphibians and mammals. He is always ready to go on a hike or try something new!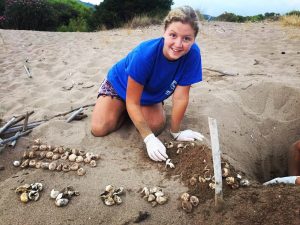 Victoria Lang
Field Staff
Meet Victoria, one of our awesome field staff members in Greece for this summer. Victoria has a degree in Environmental studies and has always had a love and passion for the environment and wildlife. She has been with GVI for over a year starting as an intern in GVI Costa Rica before moving on to a field staff position with both GVI Greece and GVI India.

Victoria has a passion for animal behaviour and would like to one day carry our studies here into animal behaviour and patterns. She loves marine life and the understanding of how that environment works and would like to further develop her knowledge in this environment and the species within this year in Greece.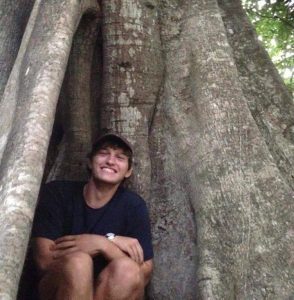 William Hayes
Field Staff
Meet Will, one of our knowledgeable staff members here in Greece. Will is a final year student at Durham University studying biology; he has had a strong passion for wildlife conservation his whole life and is very excited to work with GVI Greece.

He volunteered with GVI in Costa Rica before joining us in Greece and was really taken with how passionate and dedicated everyone at GVI was. Will is a big sports fan, specifically rowing and rugby, although as a Scotland fan that's often not very fun!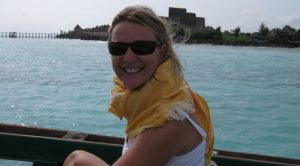 Shayle Havemann
Director of Programs
Meet Shayle, our innovative and driven director for all our projects around the world. She has two honours degrees, one in Industrial and Organisational Psycology, and another in Developmental and Education Psycology. Shayle also has over 10 years experience in setting up, managing and evaluating environmental and community programs across Africa, Asia, Europe and Latin America.

She is well-practiced in facilitating meaningful and effective intercultural engagement and this makes her the perfect person for overseeing our operations in the multicultural country of South Africa.

When not attending meetings or planning her next endeavour, Shayle can be found spending time with her family or taking part in some or other exciting outdoors activity!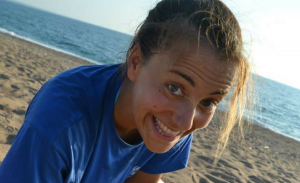 Ana Miguel
Project Coordinator
Meet Ana, our helpful project coordinator here in Greece. Upon finishing her PhD studies in Molecular Biology she decided to change the lab coat for the field and ran the largest sea turtle conservation program in Greece where she met and worked in close collaboration with GVI Greece, Mavrovouni.

Before joining us as project coordinator in Greece she ventured to work as a science coordinator at one of our conservation programs in Costa Rica. "Ever since I met the GVI team I decided I wanted to become one of them! She relocated from her home country, Spain, to work in Greece, ensuring that our turtle conservation programs run smoothly."