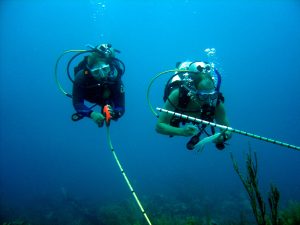 The Yucatan Peninsula is perhaps most well known stunning tropical beaches, pristine white sand and deep blue waters, with the peninsula home to the 'Ring of Cenotes', which are visible from space. This system of giant sink-holes is a top tourist destination, famous for their crystal clear waters, making this region one of the top diving locations in the world.
But there is so much more to the Yucatan than the picture postcard image. The area also has a rich cultural history with many fascinating Mayan archaeological sites and dense remote jungle just waiting to be explored.
GVI operate several projects out of the Yucatan, from vital marine conservation research from our remote base in Pez Maya, to our community work in collaboration with Save the Children in Playa del Carmen.
So whether looking to enter the world of scuba diving and gain your PADI stripes, or volunteer with children and start a teaching or healthcare career, the Yucatan is the place to be!
Download our program brochures