Advanced Divers Marine Conservation Expedition in Mexico
Discover Mexico while you develop your diving skills to the next level and explore the Mesoamerican coral reef and its abundant wildlife.
Program Code: MXPM0448E
Program Information
Develop your diving skills to the next level while discovering Mexico's Mesoamerican coral reef and its abundant wildlife. As a member of the advanced diving team in partnership with highly regarded organisations, you will be able skip go and dive right into vital marine conservation projects.
Overview
Our marine conservation expedition will take you to the aquamarine waters of the Caribbean Sea, complete with pristine white beaches and tales of lost treasure. Put your advanced diving skills to the test while working on and monitoring the Mesoamerican Barrier Reef, the second largest barrier reef in the world.
The project will see you sharing accommodation with novice divers and other volunteers. However your team will consist of fellow advanced divers, who you will be working with on vital conservation surveys such as directly monitoring the overall health of the reef. All the information gathered will go to our partners and play a vital role in sustainability plans for the reefs fragile eco-system.  Building on your advanced diving skills, you can look forward to gaining in-depth knowledge on species identification, coral reef and fish monitoring as well as once in a lifetime experiences.
This project works in conjunction with several highly regarded organisations such as
the National Fisheries Ministry of Mexico, local Fishing cooperative, Healthy Reefs for healthy people, local and national universities among others.
Through such partnerships, advanced diving volunteers can be sure their efforts are making a serious and measurable impact under the water.
Highlights
As a member of the advanced diving team, you will be learning about the Mesoamerican coral reef and how to identify the wildlife it supports. During your regular monitoring dives you may be able to see mega-fauna such as dolphins and sharks while exploring different sites along the coast. While on land you could be joining in with community programmes; teaching English and raising the environmental awareness of the local community.
Scuba Diving Requirements and Additional Courses
You will spend the majority of your time on this expedition gaining and improving Marine conservation and Scuba diving skills, helping our partners carry out their marine conservation work. Non-divers can join for 8- and 12-week durations, GVI will supply you with all the training you need to be certified up to PADI Advanced Diver. The 4-week duration is only open for divers already qualified to PADI Open Water Diver or equivalent. For non-divers wishing to attend for 4-weeks, we can recommend local dive centers that will help you qualify before your intended start date.
Also, if you wish to add to your scuba diving skillset, why not take an extra course at a discounted rate or through a nearby dive centre during your free time. Check out available Add-ons under the Book Now button on the right-hand side, or mention to your Country Expert if interested in finding out more.
Program Details
Life On Base
Situated in the heart of the Mesoamerican Barrier Reef, the site allows for some fantastic diving! Although very rewarding, days can be long and tiring which you should be prepared for.
The main focus of the programme is to equip you with professional survey techniques for underwater data collection on the health of the reef. Volunteers will specialize in either fish or coral research techniques during their initial training to prepare for their dives. Training will include learning to identify the various species and learning how to take measurements underwater as well as an introduction into marine conservation. Depending on weather conditions, we aim for everyone to get into the water everyday to dive or snorkel but this is also dependent on the needs of our partners as there are conservation measures in place which will not require you to dive 5 days a week.
Besides diving, you should expect to be involved in additional projects and activities, including training sessions,
lab work
,  marine debris surveys and removal, environmental education session or alternative income training, depending on local and project needs.
While your living conditions will be basic, our base is located on a property a few hundred meters from the beach. When not working, you can take the opportunity to brush up on your knowledge of the reef and marine species, explore the nearby cities, cenotes, relax with your fellow volunteers or just take in the stunning sunsets that have to be seen to be believed.
When not working, you can take the opportunity to brush up on your knowledge of the reef and marine species, relax with your fellow volunteers or just take in the stunning sunsets that have to be seen to be believed.
Project Details
GVI is collecting data in the northern section of the Mesoamerican Barrier Reef, working with our local partners with the aim to:


Form a comprehensive overview of the ecological health of the reef


Develop education and awareness programmes within the local community


Form a comprehensive overview of the ecological health of the reef


Participate in the coral restoration efforts with our in country partner


Create a general overview of the populations of fish species in the National Park Reefs of Puerto Morelos


Develop education and awareness programmes within the local community


Minimise the environmental impact that visitors and other people have within the national park


Increase in-country capacity within our partners and community members in the area


Overall, our monitoring programme in Mexico aims to provide a long term record of coral and fish species abundance over time to contribute to the long term survival of the reef.
Puerto Morelos's short, mid, and long-term objectives:
All of our programs have short, mid and long-term objectives that fit with the United Nations Sustainable Development Goals. This enables us to report on our collaborative impact across the world in a streamlined manner, measuring which UN SDGs we are making a substantial contribution to. Furthermore, this will help our local partners and communities measure and visualize their contribution to the UN SDGs.
Upon arrival to base, you will be educated about the history of the UN SDGs. You will learn about the specific goals of your location, the long-, mid- and short-term objectives, and also clarification of how your personal, shorter-term involvement contributes to these goals on a global level.
Our aim is to educate you on local and global issues, so that you continue to act as active global citizens after your program, helping to fulfill our mission of building a global network of people united by their passion to make a difference.
Learn about the long-term objectives you will be contributing to in Puerto Morelos:


Provide data to our partners on the overall health of the reef, to be used for coastal management, and to have a better understanding of the Mesoamerican barrier reef system.


Raise environmental awareness within the area and local community.



Minimise the environmental impact that visitors and other people have within the area.



Increase in-country capacity within our partners and community members in the area.


How this programme makes a difference
Over time and with the contributions of a small number of volunteers, our partners
have been able to amass a large database
on the condition, health and changes of this section of the Mesoamerican Barrier Reef. With all our helpful and hardworking participants we can help our partners move forward providing great support to their work these other areas of the reef.
Training
A GVI program is an investment in your career. No matter which you choose, you will be working toward improving your employability by mastering new social skills, gaining further technical expertise and earning qualifications in many cases. Most of our staff are, in fact, GVI Alumni, and we have helped many of our Alumni discover, move toward, and earn their own personal dream jobs. Each program includes introductory workshops, ongoing presentations, as well as on-the-ground professional support provided by our very own trained staff members. In addition, our training programs are critical for helping us to ensure the long-term impact of our sustainable development projects around the world.
What's It like?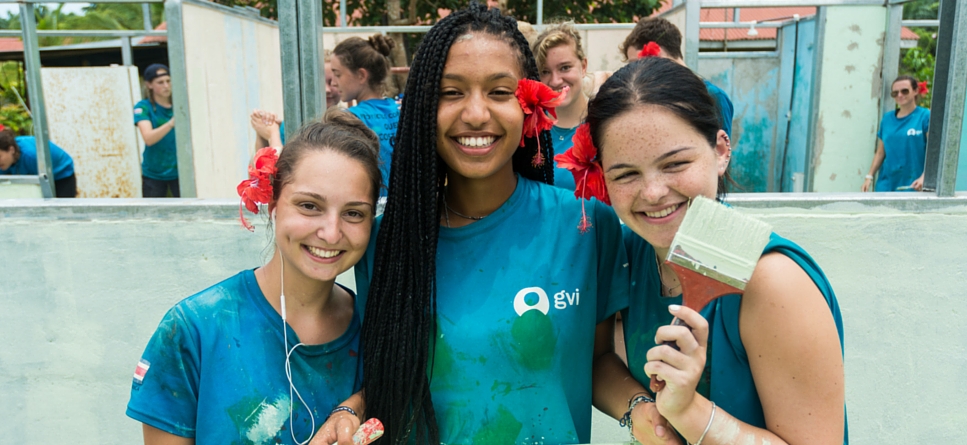 If you'd like to find out what the experience of joining a GVI project is really like, simply contact us and we'll put you in touch with one of our many Alumni.
We'll try to match you to an Alum based on your location, nationality, age, stage of academic career, gender, and program interests. This allows you to gain insights into the experience that is most relevant to you.
Depending on your location you might be able to speak to an Alum over the phone or online, or meet up with them face-to-face at a coffee shop nearby. We also run a series of small events around the world where you can speak to GVI Alumni, Ambassadors and staff members.
Our Ethics
Below is a list of core ethics and best practices we believe are essential to the operation of high quality, ethical volunteer and sustainable development programs. We believe that all responsible volunteer and sustainable development operations should focus upon these principles. If you are considering volunteering, these are some of the key considerations you should question, to ensure that your time and money contributes towards positive change.
Our 10 Ethical Commitments
Locally Driven, Collaborative Projects
We aim to design all our projects in collaboration with local organizations and communities and ensure that they are locally driven.
Clear Objectives & Sustainable Outcomes
We aim to clearly define short-, mid-, and long-term objectives with sustainable outcomes for all our projects.
Impact Reporting
We aim to track, record, and publish the impact of each of our projects.
Working Against Dependency
We aim to build in-country capacity by assisting local organizations in becoming self-sustaining.
Responsible Exit Strategies
For each local organization we work with, we aim to have a plan in place for withdrawing support responsibly.
Clear Roles & Specialized Training
We aim to ensure that ever participant is assigned a clear role and that they are fully trained and supported to carry out their work by specialized staff.
Respect for all
In all our actions we aim to respect the skills and efforts of all and seek to protect the rights, culture and dignity of everyone who engages with GVI.
Local Ownership
We work to ensure that credit for the results of any project, along with any data collected, research conduct, or Intellectual Property developed, remains the property of local organizations.
Transitioning from the Orphanage Model
We do not condone and aim to withdraw support of orphanages and residential care centers.
Child and Vulnerable adult policies
We will live by our Child Protection and Vulnerable Adult policies.
Continual Development
As an organization, GVI is committed to striving toward best practice, and to educating both our potential participants, our partners, and the world at large about them. Both the volunteering and sustainable development sectors are increasingly, and rightly, under scrutiny. Many recent local and global articles highlight poor practices and questionable ethics. GVI is widely recognized for striving to apply global best practice in the volunteering, education and sustainable development sectors throughout our operations by reputable organizations such as ChildSafe.
However, global best practice is always evolving and we dedicate both time and resources to engage with internationally respected experts and learn from the latest research to ensure our programs both fulfil their potential to create maximum positive impact, and minimise their potential to create unintentional negative impact. Along with and as part of the sustainable development and volunteering community, we are constantly learning and applying this learning to practice. We do not always get everything right, but we seek feedback from our community members, partners, participants and our staff, and react accordingly. We know are already doing a great job, and feedback we have received confirms this, but we aim to do even better and are continuously refining our operations to improve upon our already excellent reputation.
What's Included
24-hour emergency phone

24-hour in-country support

Access to Alumni Services and Discounts

Airport pick-up (unless otherwise stated)

All necessary project equipment and materials

All necessary project training by experienced staff

Community work workshop

Coral reef ecology

First Aid & CPR training

Location orientation

Long term experienced staff

Meals while on project (except on work placements for long term internships)

PADI Coral Reef Research Diver Distinctive Speciality

Real hands on experience and learn about the challenges of marine conservation has in this region

Safe and basic accommodations (usually shared)

Transfer to base location

Use of O2 equipment workshop

Welcome meeting
What's Not Included
Additional drinks and gratuities

Extra local excursions

Flights

International and domestic airport taxes

Medical and travel insurance

Personal dive kit, e.g. mask, fins, wetsuit, timer, DSMB and reel, slate, etc.

Personal items and toiletries

Police or background check

Some equipment is not included

Visa costs (where necessary)
Support & Safety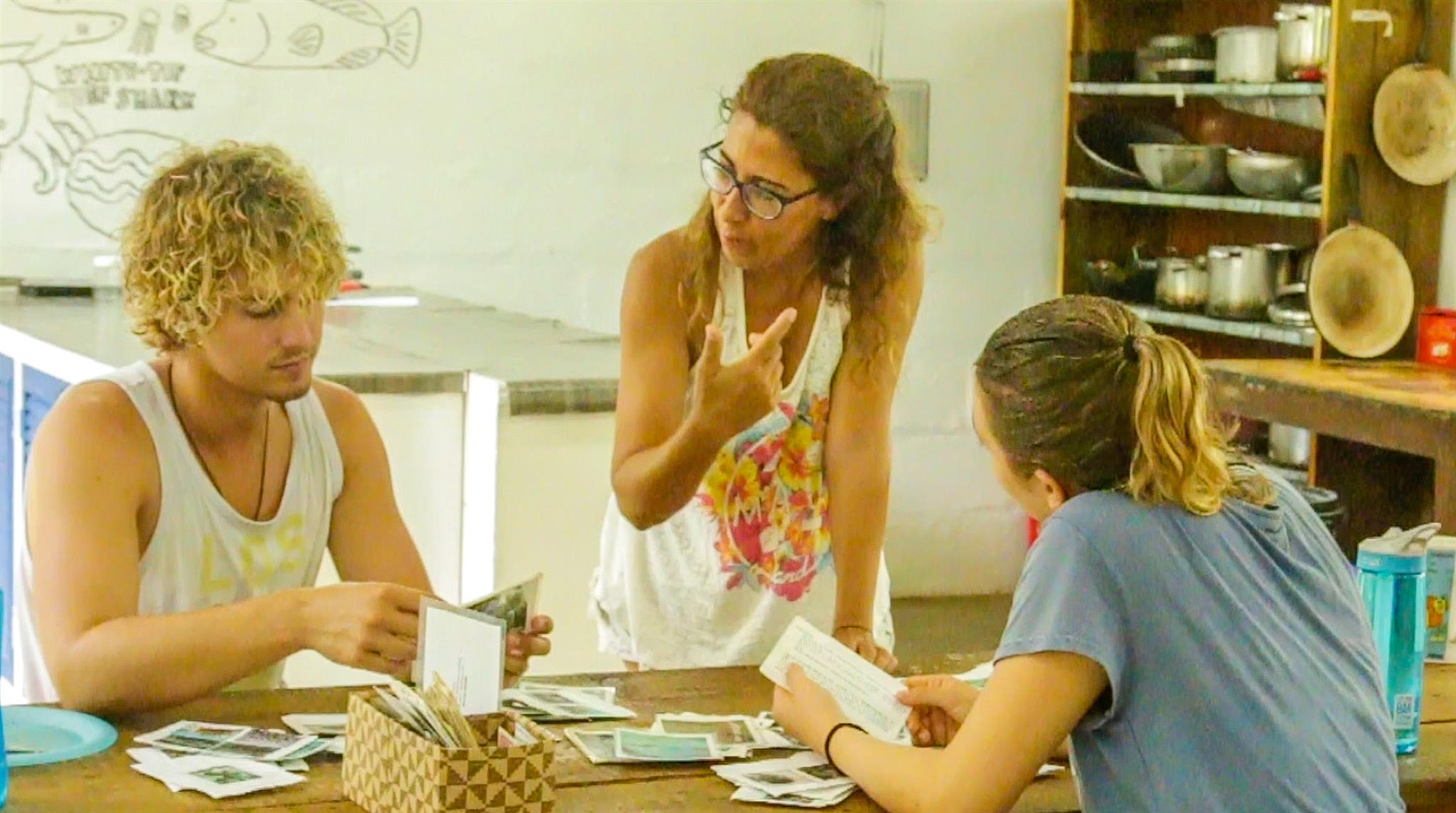 We won't sugarcoat it — Traveling abroad is usually a complex process that carries an element of risk. But this is exactly why we're passionate about providing extensive support throughout the process as well as the highest safety standards during the in-country phase. We believe that volunteering abroad should not only be impactful, but an enjoyable experience that carries as little risk as possible. This is exactly how we've been able to maintain our reputation as the most highly respected volunteering organisations in the sector over the past two decades.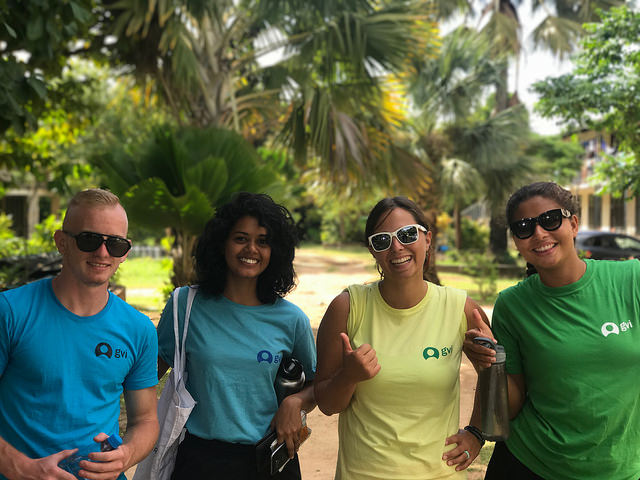 Support
Once a participant books, they will be assigned a personal support coordinator who will oversee their pre-departure journey. The support coordinator helps to bridge the gap between program enrolment and arrival at one of our field bases. Your personal support coordinator will ensure that you are provided with all the necessary information required to apply for visas, background checks, and any other documentation.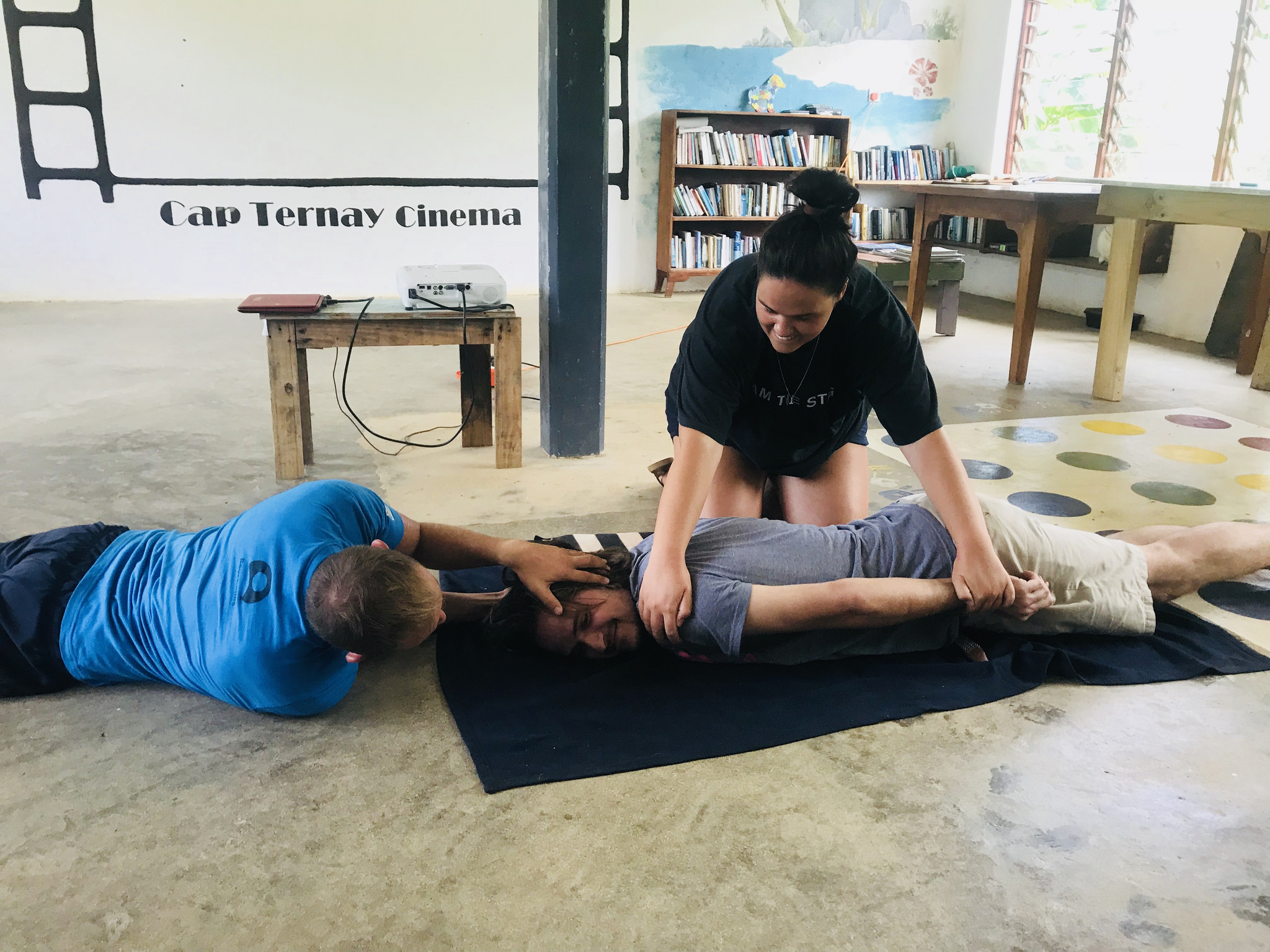 Safety
Upon arrival at the airport participants will be greeted by a GVI staff member. All GVI staff are our own and all our programs around the world are run by our staff. All GVI field staff are background checked, Emergency First Response and safety trained. The minimum staff to participant ratio on GVI's programs is one to six, although on several bases we have a ratio of one to three. When finishing the experience, participants will provide feedback on all aspects of their program.
Health & Safety Case Studies
Country Exploration
Volunteering with GVI not only allows you to participate in programmes assisting disadvantaged communities or endangered ecosystems, but it also offers wonderful opportunities to travel in the local area in your down time or further afield either before or after your programme. Many decide to travel after volunteering, solidifying the lifetime friendships established on the programme.

Our long term field staff are a great source of advice and are here to help you make the most of your time abroad. Remember to ask about discounts on local activities and side trips through your association with GVI. Our Yucatan field teams have helped us put together the following information on trips and travel options in Mexico!

Optional Side Trips
As a large and vibrant country, Mexico can seem daunting at first, but here are a few ideas to get you going in the Yucatan Peninsula on your weekends off:

In this region you are spoilt for choice in the number of opportunities to try out different dive sites away from the expedition. You could start with a dive or snorkel within the unique cenotes (the underground river systems); dive Cozumel, where the wall dives along the island have been voted as part of the world's best top ten diving locations; or, for a full weekend, try Isla Holbox, a small island off the north of the peninsula. It's a beautiful, tranquil place, great for a quiet weekend away. Whale sharks (the world's largest fish) migrate up near the island from June to September and snorkelling alongside them while they filter feed is a truly breath-taking experience!

Alternatively, if you are looking for a break from the water, make your way to Río Lagartos where flamingos flock and river crocodiles abound; visit Bacalar – known as the lake of seven colours due to the various shades of blue; or visit prime breeding areas for the hawksbill, loggerhead, leatherback, and green turtle (May to October).

Immerse yourself in the surviving Mayan culture of the area and visit remote and untouched Mayan archaeological sites, such as the famous and easily accessible sites of Tulum and Coba, or visit the beautiful and majestic Mayan ruins of Palenque in the Chiapas region. And finally, the colonial city of Mérida is the peninsula's cultural capital and the local artisans of Izamal will be sure to offer you some souvenirs of your trip.

Further Travel Opportunities
If you want to travel throughout the rest of Mexico either before or after your time with us, there is more than your fair share of interesting places that are well worth a visit. Take a trip to the Calakmul Biosphere Reserve and experience lowland tropical forests and have an opportunity to try and seek out threatened species; the island of Espíritu Santo offers kayaking with whale sharks (seasonal) and sea lions; if you are keen to try surfing, Puerto Escondido is rated as one of the world's best surfing spots.

Oaxaca is a beautiful city to visit on the Pacific Coast, a colonial city with some of the nation's most magnificent architecture, also offering several archaeological sites including the Zapotec ruins, a UNESCO World Heritage Site. Further south, San Cristobal de las Casas, Chiapas, is definitely worth a visit. Colourful buildings, historical architecture, and impressive nearby ecological sites with fun activities will easily keep you entertained for days.

Neighbouring countries to the south, Guatemala and Belize offer something different yet again. In Belize, island hop all the way down the coast, stopping to dive the Blue Hole, another world-class dive site. Guatemala can be reached easily by bus and offers everything from the UNESCO World Heritage Site at Antigua, to volcanoes, the beautiful Lake Atitlan, adventure sports such as mountain biking, and the majestic Mayan ruins of Tikal.

If you do decide to spend time travelling through Central America, make sure to allow yourself time to take it all in, because this region will pull you in and not let go!
Parent Info
'If only every student could do this. It changes your life in all the right ways,' says Chris Heritage, parent of Luke Herritage, one of our teen volunteers who has participated on two GVI programs, one in Costa Rica and another in South Africa.
We are a parent-run organisation that is incredibly serious about health and safety, and increasing the impact, as well as the long-term career benefits of our programs. Our programs help young people develop the skills to select a career path that is personally fulfilling, and live a life aligned to the well-being of our planet and the global community.
Ken and Linda Jeffrey, whose son Sam volunteered with GVI in Thailand, talk about how the experience affected Sam. He also went on to volunteer with GVI again in South Africa. 'I know it sounds like a cliche but in a sense, he did go away as a boy and he came back as a young man. Both of us could recommend GVI without any hesitation to any other parent thinking about exploring an opportunity for their children to explore the world and to see different parts of it.'
Parent Info Pack
Download the Parent Pack and learn more about:
Our staff: All our projects are run by staff, selected, vetted, trained, and managed by our central office.
Health and safety: Our safety practices include a child and vulnerable adult protection policy and high participant ratios.
Staying in touch: See what's happening on base, by following a hub's dedicated Facebook page.
Free parent consultations: We would love to talk to you about exciting opportunities available for your child.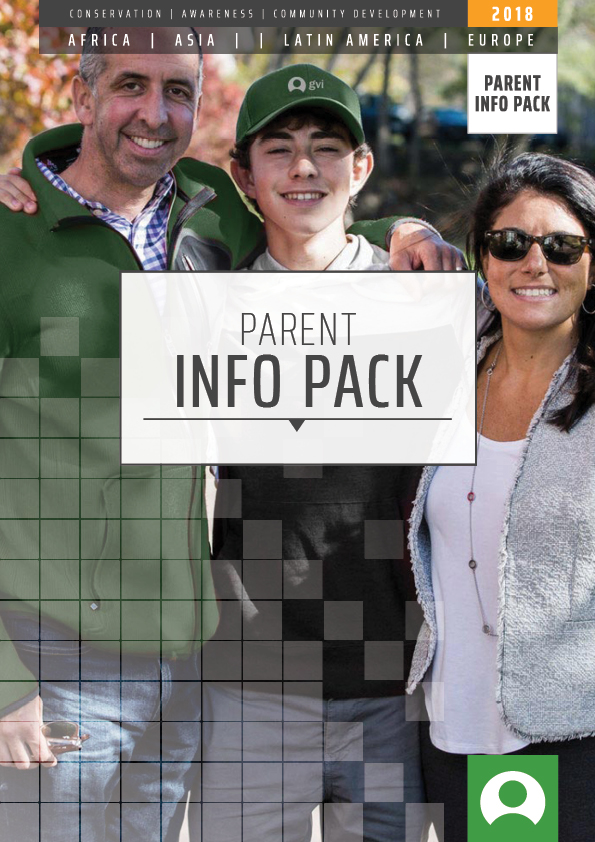 live base updates
Follow GVI Volunteer-In-Puerto-Morelos's Facebook page for live updates straight from the field. Get an idea of the types of projects you might be involved in, meet our staff and participants, experience life on this GVI base, hear about free time activities, and learn about the local culture and environment.
Arrivals
When it comes to support, we ensure that each participant is provided with unparalleled, 360 degree support, from your initial contact with the GVI Family, all the way through your program, and even after, as you become part of the GVI Alumni Team.
As part of this promise, we will ensure, whenever possible, that one of our dedicated staff will be available to meet you at the airport. We will arrange with you prior to your departure that, should you arrive in the agreed upon pick up window, a member of our staff will be there to welcome you, easily identifiable in a GVI t-shirt or holding a GVI sign and wearing a friendly smile. This means there will be someone there to greet you as you land, and from there you will be transported to your GVI base to start your adventure and meet the rest of your team.
Volunteers who went on this program also considered these
Scuba Dive in the Indian Ocean on this critical conservation expedition
Learn to dive in the incredible waters of Fiji and contribute to vital conservation[...]
Assist in the conservation of Thailand's natural environment on this all-encompassing[...]
Wildlife Conservation
Marine Conservation
Animal Care
Contact Us
Global Vision International
Level 5, 11 Queens Road, Melbourne, VIC, 3000, Australia
Learning Provider Number (LPN): 10002692
Centre Number: 17067

Download a Brochure