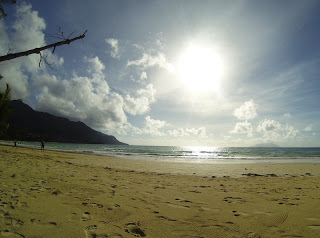 It's been an amazingly hot few weeks here at base, attempting to sunbathe on our time off lasted 20 minutes before giving in and going snorkeling. The rare bouts of rain are now super appreciated, (and coming from the UK that says a lot…) Joe gave us all an underwater photography lecture yesterday, which was really interesting, and then took us out on a guided snorkel with our cameras and saw a pretty big ray (my photo does it no justice, I'm still an absolute novice..)
All the new dive master interns have now completed their PADI Advanced Open Water courses and have been off to Victoria this week to do their medicals so the realization that some us of will be here for 6 months is starting to kick in. We have our emergency first response review tomorrow so we can go onto to completing our PADI Rescue Diver too which is exciting.
 

We're currently making cookies for the kids at the President's Village right now to take out with us on the snorkel this afternoon (supposedly this is the only way to get them out of the water!) So looking forward to hanging out with them. Everyone's all starting to get pretty geared up for the beach party on Thursday too to end an awesome week with.