VOLUNTEER IN MADHYA PRADESH
If you've just heard the name 'Madhya Pradesh' you might be asking yourself 'Where exactly is that?' Madhya Pradesh is a province in Central India often referred to as the Heart of India. Some interesting facts about Madhya Pradesh include that it is the most densely forested area in India, with about half the state covered in forest, and is sometimes called the 'Tiger State' due to the large population of tigers that call this province home.
But natural beauty isn't all this state has to offer. It features not one, but three UNESCO world heritage sites, and is considered the cultural heartland of India, heralded by some as the birthplace of India's diverse religious melange and the site of the earliest human settlement in India, the cave paintings at Bhimbetka.
Our conservation and community project in Madhya Pradesh allows volunteers to experience first-hand the best of what this destination has to offer, including both the unique biodiversity and the culture. Volunteers will not only help with rehabilitating and studying critical tiger habitat, but will also work with the local community to expand their capacity to capitalize on ecotourism opportunities. To join, just send us your application.
This unique mix of its magnificent landscape, unique wildlife, and distinct culture mix, has made Madhya Pradesh so popular among international visitors that it was voted the top tourist province in India over the past three years. Some of the best places of to visit include the tiger-populated natural reserves and sprawling UNESCO-protected temple complex, although there are innumerable other places of interest throughout the area.
The landscape of Madhya Pradesh is incredibly varied and consists of rugged mountains, deep valleys, and expansive plateaus, threaded with river systems that circle densely forested hills. Several national parks, including Kanha, Bandhavgarh, and Shivpuri offer the opportunity to spot tigers and other Indian wildlife through the trees and thickets.
Madhya Pradesh boasts an astonishing assortment of cultures, even by Indian standards. The indigenous Adivasi group, a protected tribal society with ancient roots, make up a significant portion of the population. While the official language of Madhya Pradesh is Hindu, students can learn about thirteen other local languages and countless regional dialects. Many classical Indian folk songs and dance styles also originated in this region.
Volunteers will be stationed in a small village five hours from Bhopal, the capital of the Madhya Pradesh, in bungalows built, owned, and managed by a local tribal community. The village is set on the edge of a wildlife rehabilitation zone bordering a tiger reserve. Volunteers will help local conservationists with restoring the wilderness area and monitoring how well the area is recovering by conducting surveys of several threatened or vulnerable species. They will also help local community members increase and improve their ability to take advantage of the economic opportunities international visitors afford. In the process, volunteers will have the opportunity to become fully immersed in the local culture, walking away with an in-depth understanding of customs and practices, and maybe even picking up a few local recipes to recreate at home.
If you would like to join our conservation project or maybe just want more information about our work in Madhya Pradesh complete an application form and one of our enrolment managers will be in touch.
On the weekend you can make the trip to Bhopal to visit the pink-stoned Taj-ul-Masajid mosque or the many bazaars. After your work with GVI, take a tour some of the top 10 cities in Madhya Pradesh, like Indore, where the domed structure of the Chhatris along the riverbank are lit up or Jabalpur where you can take a boat ride on the sacred Narmada river looking up at the soaring marble cliffs. Those more interested in the cultural history of the region can also visit Ujjain and Maheshwar to see the Ghats, steps running into the river used daily both for cleaning and rituals, or Omkareshwar, where you can find one of the 12 temples throughout India sacred to the Hindu god, Shiva.
The best time to visit Madhya Pradesh is from October to March because it is more temperate and there is little rain. July to September is a wetter season when rivers are full and April to June are warmer. Our conservation project runs all year long and bookings are available from July 2018.
Download our program brochures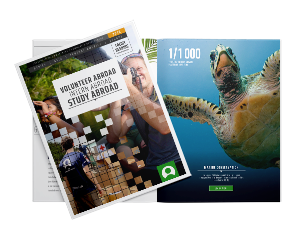 OUR PROGRAMS IN MADHYA PRADESH