Program Details
Call Back Request
Fiji Community Development Service Learning Program
Make a difference by contributing to long-term community development initiatives, under the direction of local partners.
Program Information
Discover service learning in Fiji and contribute to need-based community development projects in surrounding areas, alongside local partners. All our projects primarily improve the general infrastructure and learning environments with the local community.
Overview
Curriculum
The Project
Itinerary
Enquire Now
Overview
This program will focus on improving basic human rights through educational development, infrastructure improvement, and reciprocal cultural exchange, and will take place in one of two GVI bases: Caqalai Island and the Dawasamu District. Caqalai Island is on the edge of an expansive reef system, and the Dawasamu District includes the villages of Silana and Natalei, a region defined by dense jungle, volcanic mountainsides, and the tribal culture of Tailevu Province.



These projects range in content suitable for students studying academic disciplines such as:

- Women's Empowerment
- Sports and Exercise
- Sustainable Agriculture
- Education
- Social Enterprise
- Global Health.

Example project activities include:

- Income generation workshops on eco-tourism and craft-making for women;
- Business workshops on management, sales, and marketing; menstrual hygiene, WASH, environmental sustainability, and additional community-requested workshops;
- Healthy lifestyle and garden projects (e.g. vegetable gardens, greenhouse, and rural agriculture);
- Teaching PEMAC classes, especially physical education.


Testimonial
Silana is small village in the Dawasamu district where I had travelled to learn about traditional Fijian culture and to work with GVI regarding successful methods of generating income to fund members who attend the University of the South Pacific, in addition to build sustainable development projects and rainwater harvesting and preservation. Working with the GVI team has been a great way to learn more about the incredible work that GVI guys are doing every day. It is a wonderful way to stay connected and learn about ongoing social and environmental projects and helping GVI amplify the work done by changemakers internationally.
Program Details
What's Included
24-hour emergency phone

24-hour in-country support

A dedicated course co-ordinator

Access to Alumni Services and Discounts

Airport pick-up (unless otherwise stated)

All necessary project equipment and materials

All necessary project training by experienced staff

Flight bookings service on request

In-country transport costs

Insurance on request

Location orientation

Long term experienced staff

Meals while on project (except on work placements for long term internships)

Safe and basic accommodations (usually shared)

Welcome meeting
What's Not Included
Additional drinks and gratuities

Extra local excursions

Flights

International and domestic airport taxes

Medical and travel insurance

Personal kit

Police or background check (where necessary)

Visa costs
GVI Live
We've gotten out into the wilds of India to help conserve the habitats of tigers and other wildlife with our new partner, Forsyth Lodge Satpura. The tiger population is on the rise, but they are still one of the most endangered animal species in the world. Over the past 20 years, large areas of land have been added to the protected area of a park in Central India in the province of Madya Pradesh, where our new India base is established. In order to ensure wide support for conservation and to mitigate conflict between humans and wildlife such as tigers, it is crucial to closely monitor wildlife populations. Rewilding efforts made to restore the land to its former glory of prime animal habitat have been very successful. Former village sites are now grasslands supporting high densities of deer and antelope, which ensures sufficient prey for larger cats such as the leopard and tiger. Recently, a tigress was found raising her cubs in the forests only a few years after the establishment of the reserve. Sloth bear, locally called bhālu, also hugely enjoy feasting on the mangoes and guavas growing on the trees surrounding relocated village sites. The porous park boundaries, however, allow wildlife to roam outside the park. Groups of deer or wild boar can destroy a complete harvest in one night and some families fear that tigers might prey on their family cow. The indigenous people are also found of using the Mahua tree, which is considered holy by many tribal communities, for many purposes. Fruit and seeds are used for skin care, soap, vegetable butter, fuel oil and fertilizer, while and the flowers are used to produce an alcoholic drink. Sloth bear are also equally fond of the Mahua fruits, which is cause of serious human animal conflict throughout the area. By conducting field surveys and collecting data using observations and camera-traps you can help map movement patterns and keep track of population densities. Your data on water-bird breeding along the banks of the reserve's rivers might allow authorities to negotiate appropriate fishing locations and times with traditional fishermen. Your camera-trap data might confirm the presence of the smallest cat in the world, the rusty spotted cat, or the jungle cat, pangolin, or honey badger, and other wildlife in unexplored areas, which could warrant further action as well as attract further beneficial international attention for the area. Your work restoring the local habitat will also help in making the environment more conducive to the animals living in the park. As you live and work among the families you can use the time you are not looking for wildlife to increase support for wildlife protection initiatives through formal and informal environmental education and livelihood programmes.
1 day ago
"It can't be done in 30 days!" you cry out in despair. "Oh yes, it can't, but 30 days is all it takes to make a start," we respond, holding out this handy link to your 30 day action plan: http://bit.ly/2pNSXOE
2 hours ago
Posts from the Field
Curriculum
This inter-disciplinary program in Fiji introduces students to international service-learning and sustainable development in content and practice. Through lectures, discussion, research, service, and reflection (beginning two weeks prior to their departure and continuing two weeks after their return home), students in this program engage in meaningful, context-driven service-learning at home and abroad. Emphasis will be placed on relating long-term project goals with the United Nations Sustainable Development Goals and engaging in daily reflection surrounding the experience, which will be led by qualified group facilitators who are trained to enhance individual student development. The program curriculum will be tailored to your students' academic needs as well as any faculty requirements.

A GVI service-learning program provides students with the opportunity to live and work within the "classroom" of their chosen field of study, and to develop professional capacities associated with intercultural competency, global citizenship, teamwork, problem-solving, and leadership. By participating in this program, students will be prepared to contribute to solutions for critical global issues related to sustainable development within a local community, and alongside an international team.
What's Included
24-hour emergency phone
24-hour in-country support
A dedicated course co-ordinator
Access to Alumni Services and Discounts
Airport pick-up (unless otherwise stated)
All necessary project equipment and materials
All necessary project training by experienced staff
Flight bookings service on request
In-country transport costs
Insurance on request
Location orientation
Long term experienced staff
Meals while on project (except on work placements for long term internships)
Safe and basic accommodations (usually shared)
Welcome meeting
What's Not Included
Additional drinks and gratuities
Extra local excursions
Flights
International and domestic airport taxes
Medical and travel insurance
Personal kit
Police or background check (where necessary)
Visa costs
The Project
The objectives for each GVI project are based on specific United Nations Sustainable Development Goals. In Fiji, students will largely contribute to need-based community development projects in surrounding areas that primarily improve the general infrastructure and learning environments for local disadvantaged children.

Dawasamu's short, mid, and long-term objectives:

All of our programs have short, mid and long-term objectives that fit with the United Nations Sustainable Development Goals. This enables us to report on our collaborative impact across the world in a streamlined manner, measuring which UN SDGs we are making a substantial contribution to. Furthermore, this will help our local partners and communities measure and visualize their contribution to the UN SDGs.

Upon arrival to base, you will be educated about the history of the UN SDGs. You will learn about the specific goals of your location, the long-, mid- and short-term objectives, and also clarification of how your personal, shorter-term involvement contributes to these goals on a global level.

Our aim is to educate you on local and global issues, so that you continue to act as active global citizens after your program, helping to fulfill our mission of building a global network of people united by their passion to make a difference.

Learn about the long-term objectives you will be contributing to in Dawasamu:

1.Improving waste management in Dawasamu by developing community-based waste management solutions
2. Introducing and promoting the principles of WaSH in the Dawasamu District including First Aid
3. Create alternative livelihood projects which can help women generate income within the village
4. Improving English literacy levels and implementing holistic educational techniques into the learning environment
Itinerary
Example Itinerary:
This program varies in duration, depending on project requirements as well as cultural expeditions or activities. The below outlines a one week in-country program; however, your in-country service can run for as many weeks as set by your academic curriculum, objectives, and requirements.
Pre-Departure
Two weeks prior to departure, students will be assigned readings and assignments. These assignments make sure they have a basic cultural understanding of Fijian customs and it's local community-based issues; a foundational understanding of international service learning and the United Nations Sustainable Development Goals; and begin a dialogue surrounding global engagement. Materials will be chosen based on collaboration with the group's educational leader to ensure the work fits within the group's in-class curriculum.
In-Country:
Day 1- Arrival at Nadi International Airport and Transfer to Base
On arrival, the group will be met at Nadi International Airport by a GVI representative or staff member. Students and accompanying teachers or chaperons will be transferred to their hostel accommodation where they will have time to settle in and rest. There will be an initial welcome presentation and introduction to the GVI staff, history and background of the projects, as well as a health and safety breakdown. In the evening a reflection period will take place in which participants will debrief and review their initial reactions and observations on the experience and location.
Day 2- Arrival in 
Accompanied by a GVI staff member or representative, the group will travel to the base; when traveling to Caqalai it is a 5/6 hour bus ride, or more than 6 hours by bus and boat to Silana. The group will meet for an afternoon orientation and welcome session. The week's logistics, duties and responsibilities will be explained, and students will be given an introduction to the service-learning structure. Materials and tools will also be prepped so as to maximize productivity for the upcoming days.
Days 3-5- Daily Structure: Service, Education, and Reflection 
Students will work side-by-side with  local community members and our partner organizations. Specific projects will depend on the needs of the centers at the time, and could involve engagement in construction and renovation projects, as well as creative activities, basic healthcare and hygiene programs, and sports development initiatives.
All service elements will be connected to a greater understanding of the cultural context in which the students are working. Assignments, in the form of lectures, readings, written response papers, journal entries, group presentations, and miscellaneous creative projects will be conducted daily to enhance student learning from their service involvement. Daily reflection sessions will act as the bridge that connects and helps to synthesize the many aspects of the experience.
Particular emphasis will be placed on the ways in which participants are working towards achieving the United Nations Sustainable Development Goals. Students will critically examine their part in this process, by analyzing their contributions, challenges, and observations.
Day 6- Presentation of Work and Exploration
The group will spend the day presenting the work they have done and the impact they have been a part of to the local partners in Fiji. In the afternoon the group will spend time exploring the surrounding area. The exact activity will vary based on group preferences, but may include a boat ride away to visit the famous pod of dolphins that reside all year round on Moon Reef or
hike
into
forests
and a swim in hidden waterfalls or a visit to one of Fiji's famous island resorts.
Day 7- A Fond Farewell
GVI field staff transfer the team back to the airport and bid them a fond farewell! GVI will endeavor to keep the group informed of any updates there might be in the field, with particular reference to the projects participants contributed to during their time in Fiji.
Post-Return
Students will continue to engage with active reflection and educational expansion two weeks after leaving Fiji, with emphasis placed on incorporating the international experience, and insights gained which are then applied to the students' home context. Assignments will involve generating ideas to continue global engagement, connecting the experience to personal and career goals, and reflecting on the insights gained while in the field.
Location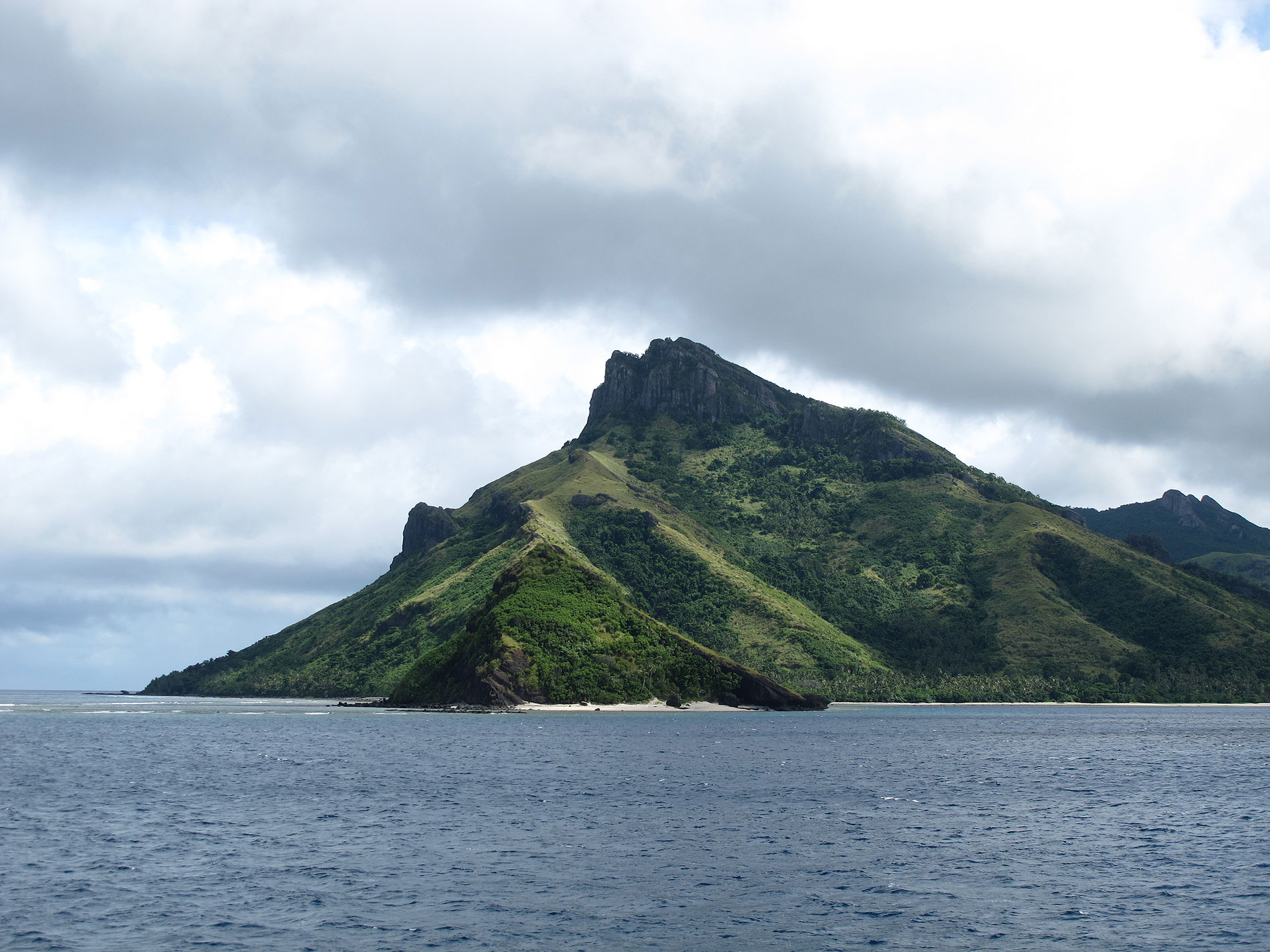 Volunteer in the Fiji Islands