Come Meet Cam and Rebecca in Ipswich - 27 October 2018
Pumpyard Micro Brewery, *88 Limestone St, Ipswich QLD 4305 - 27 October 2018, 12:30-14:00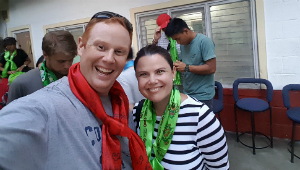 My wife and I loved every minute of our Nepal adventure. My wife volunteered on the Women's Empowerment program and I decided to get my hands dirty on Construction. Spending four weeks working with GVI was an awesome experience. Not only did I get the opportunity to help make a difference in local communities, but I was able to truly appreciate what the program provides those it touches. Everyday brought a smile to someone's face. Making furniture to use in the local schools. Painting walls and cleaning rooms to allow light in and bring a sense of pride to the space. The biggest highlight was being granted permission to repaint a local temple so as to restore it to its original build.
This was my second time working with GVI – my first was in the Yasaw Islands, Fiji on construction providing villages with after tanks and vegetable gardens – and just like Fiji it was a terrific experience. You make amazing friends from all over the world who stay with you for life. You get to immerse yourself into new cultures and challenge yourself to try new things and see the world in a different way. You visit places you would never go and make a difference in people's lives you would probably have never met. Pokhara, Nepal is a brilliant place to spend your experience. It has everything you need. The local shops cater for all the essentials and the restaurants provide delicious meals for you to enjoy. The local residents are always friendly and happy to help if you need it. The views were always stunning, the weather amazing and the lake provides a wonderful backdrop to see out the day.
The staff were terrific to work with and the homestay was immaculate. I can't recommend it enough. If you are looking for your first volunteering adventure then I would strongly suggest heading to Nepal and spending at least a few weeks in an amazing country with amazing people working on some amazing projects – all of which will enrich you as a person and leave you with memories to last a lifetime. After four weeks we didn't want to leave.
PS I guarantee you will fall in love with the local dogs and cows who wander the streets, the way the taxis move through traffic and if lucky enough to witness it – Bibek's dance moves. A great member of staff, Bibek made every day on construction a pleasure.
Fill in the form below
to register for the event